The world of DIY hardware music technology is thriving at the moment. Thanks to numerous affordable DIY hardware and software platforms, as well as an abundance of learning resources, anyone is able to build their ideal MIDI controller, synthesizer, or electronic musical instrument all by themselves, or even create something completely novel. Hardware platforms such as Arduino, Teensy, or Raspberry Pi allow you to create physical devices with ease, and when coupled with software platforms such as MaxMSP, Pure Data, or openFrameworks, your devices can easily be connected to the digital world. These projects can also be created by taking existing hardware or technologies and repurposing them for music; this could include using devices such as the Xbox Kinect, Leap Motion, or Thalmic Labs Myo as interfaces for controlling music, or circuit bending kids toys for manipulating or generating new sounds.
All of these possibilities have resulted in an impressive amount of DIY music tech projects being exhibited in all shapes and forms. In this article I'm going to talk about 11 of my personal favorite DIY projects that demonstrate the many different possibilities in the art of music tech DIY and hacking.
1. Arcade Warrior
There's something very aesthetically pleasing about retro arcade controls on a MIDI controller. Other than the DJ TechTools MIDI Fighter it's hard to find them on commercial MIDI controllers, however they are a welcome addition to DIY MIDI instruments. One of the best examples is the Arcade Warrior by Tomash Ghz. It comprises of 16 arcade buttons, a joystick, and a couple of sliders and dials, and is built using a Teensy microcontroller as the brain. See here for a video and a DIY guide to building it:
2. Edison Keyboard
Edison Keyboard is a mesmerizing project by Capricorn One which uses vintage style 'Edison' light bulbs to create a light display that is controlled by a MIDI keyboard. The bulbs can be mapped to particular MIDI notes or they can be set to light up in sequential order, with note velocity controlling the brightness of the bulbs, all developed using the popular Arduino microcontroller. See here for a video and DIY guide:
3. Pyro Board
The Pyro Board is a 2D version of a Ruben's Tube – an antique device invented by German physicist Heinrich Rubens in 1905 that uses flames to demonstrate the principles of acoustic standing waves and sound pressure. When playing music through the board, the pressure variations from the sound waves interfere with the flow rate of the propane gas causing the color and height of the flames to change, resulting in an incredible display of dancing fire. You need to watch this video to fully understand how amazing it is.
4. SMOMID
The SMOMID, which stands for String Modeling MIDI Device, is a fascinating looking MIDI instrument designed by Nick Demopoulos that resembles a touch-sensitive guitar or bass. It contains nine ribbons sensors functioning as strings, as well as two joysticks and several pressure-sensitive pads, built using a couple of Arduino microcontrollers, providing a large amount of control for any MIDI software. See here for a number of demo videos.:
5. Z-Machines
In 2013 musician Tom Jenkinson, AKA Squarepusher, was commissioned to compose a piece of music to be performed by a group of three robots called Z-Machines, comprising of a 78-fingered guitarist and a 22-armed drummer, developed by a team of Japanese roboticists. Squarepusher ended up composing five tracks for the Z-Machines, releasing the Music For Robots EP the following year. Even though the robots were developed using the Max software, due to the high build quality and performance of Z-Machines it may be a little unfair to call them a truly DIY project, however they're a great example of robotic musical instruments. Check out this documentary on the making of Music For Robots:
6. Reading My Body
Reading my Body is a fascinating project by Dmitry Morozov, AKA ::vtol::, where he has made a custom-built controller that uses a tattoo as a musical score. Using two line-tracking sensors the device scans a tattoo and uses line patterns to trigger sounds, however the controller also contains a Nintendo Wii Remote for providing 3D control of the sound by moving the device in space. Once again this project uses an Arduino microcontroller as the brain of the device. See here for some demo videos of the project.
7. Play House
Play House is a kinetic sculpture made out of Lego Technic that creates Acid House music, developed by artist Alex Allmont. Created for AudioGraft Festival 2014 with a commission from Oxford Contemporary Music, it comprises of many cogs, pedals and levers, controlled by a central motor, that tap piezo sensors to create signals. These signals are then fed into a modular synthesizer that generates the sounds. Check out a video performance of this project here:
Play House from Alex Allmont on Vimeo.
8. V Motion Project
The V Motion Project was an endeavor with the aim to create a machine that turns motion into music, created for V Energy Drink by a group of various creatives. The main technology behind the project were a couple of Xbox Kinect cameras used to capture a dancers motions, however Processing and openFrameworks were also used to turn the Kinect output data into MIDI data, before being fed into Ableton Live. Coupled with some amazing projected visuals, it resulted in a captivating performance of dance-triggered electronic music. Check out a video of the performance here:
9. ScrubBoard
The ScrubBoard is a device that allows you create DJ-style scratch sounds with audiotape, developed by musician Jeremy Bell. The contraption is a modified cassette player whereby the tape head has been removed from the enclosure of the player and turned into a handheld device that is used to slide across lines of tape. It also includes a rocker/crossfader for cutting the audio in and out and quickly switching between two sources of audio. It looks like a very homemade device, however the results are incredibly realistic. Check out a video of it in action here:
10. Incantor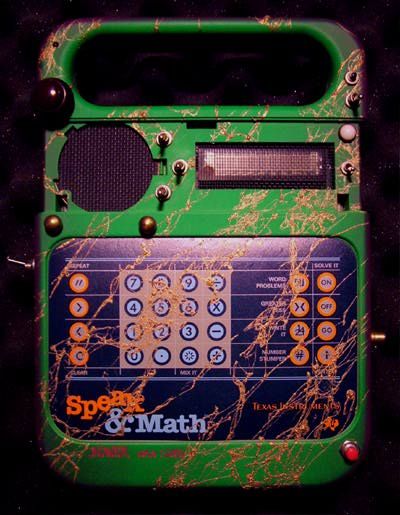 The Incantor—a circuit-bent toy by Reed Ghazala.
Circuit bending is the creative, chance-based customization of the circuits within battery-powered electronic devices such as kids toys to create new musical instruments and sound generators. Reed Ghazala is known to be the pioneer of this technique, and the Incantor is one of his most popular instruments. Incantors are circuit-bent Speak & Spells, Speak & Reads and Speak & Maths—a family of speech synthesis electronic devices introduced in the 1970s for teaching children. The Incantor includes 12 modifications to the original device for manipulating the sound in new ways—check out this video of Reed talking about and demonstrating an Incantor:
11. Analog à la Carte
In a previous article of mine I discussed how the Internet of Things could by applied to music production and composition, and Analog à la carte is a perfect example of a very cool DIY IoT music tech project. Developed by Hector Urtubia, AKA Mr. Book, it is a web app coupled with a Raspberry Pi that allows anyone anywhere to create a sequence of notes, which is then sent over the Internet to one of Urtubia's hardware synthesizers where it is rendered into audio and sent back to you. Unfortunately Urtubia is no longer maintaining this project; however see here for a CDM article about it when it was online.
Take Your Audio Production skills to the next level in
The Academy
here.