NAMM 2017 was full of new gear, much of it hidden away almost out of sight from the larger brands. One of the interesting developments this year saw products from Korg, Roland, Behringer, Akai Pro and Arturia announced before the show and this made NAMM a great place to get hands on with their respective synths. So, the Monologue, Boutiques, DeepMind 12, MPC X & Live, MatrixBrute and DrumBrute were all on show.
Here's a few of our picks from NAMM 2017 that we'd classify as NEW synths, sequencers and music machines. We've even thrown in a controller or two as well! (Note, these are presented in random order). Also note, we decided not to include the Korg Monologue (which we like a lot) because it was technically already released and has been on show a lot already.
1. Elektron Digitakt Drum Sampler
Hardware synth specialists Elektron are aiming to make their latest creation as affordable as possible. Cenk from Elektron takes us through the reasons you should be excited.
2. Dave Smith Instruments Rev 2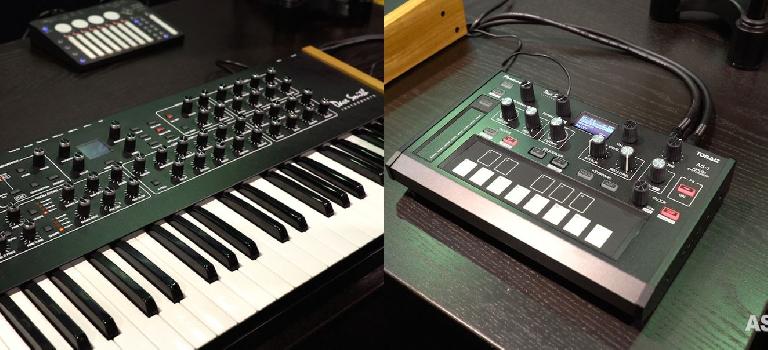 Our first video interview at NAMM 2017 was with the legendary Dave Smith who showed us around the new REV 2 and their Pioneer DJ partnership mono analog synth, Toraiz AS-1.
3. PioneerDJ Toraiz AS-1 Monophonic Analog Synthesizer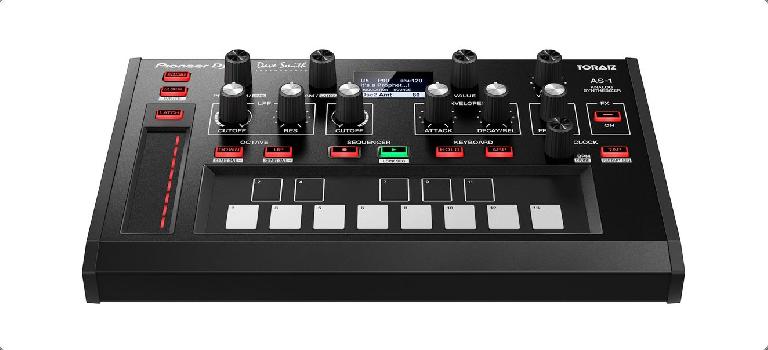 Not only is PioneerDJ releasing a true analog monophonic synthesizer something of a surprise, but this synth (made by Dave Smith Instruments) features circuits based on the popular Prophet 6! Here's all the info.
JUMP TO 4:49 in the video below:
4. Modal Craftsynths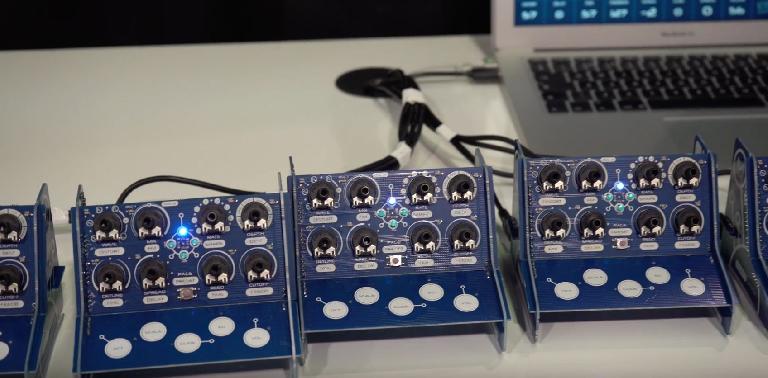 What if you could build your own synthesizer for under $100 with no need for any soldering? It's not too good to be true - it exists, and it's called the Modal CRAFTsynth.
5. Teenage Engineering Pocket Operator PO-32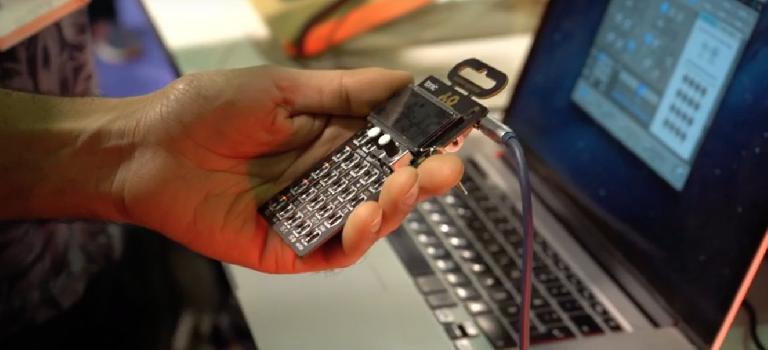 At NAMM 2017 one of our first trips was to the Teenage Engineering booth to check out the innovative new Pocket Operator, PO-32 tonic. Its designer, Magnus Lidström showed us how it works.
6. Soulsby Atmultitron
The Atmultitron was being previewed at NAMM 2017. It is a 6 voice polyphonic 8-bit synthesizer with 3 octave keyboard. The final specification will feature Eurorack connectivity and wavetable sampling from the Oscitron, along with sequencing and versatile modulation routing. The Atmultitron is aimed to be released in mid-2018. So, still a long way to go, but it's great (and unusual) to see a synth in development being showcased before release.
7. Expressive E Touché
We were super excited by the Touché a year ago and our interest hasn't diminished! Touché is a unique expressive instrument that can control both software (VST/AU) and hardware (MIDI/CV) synthesizers. It comes with over 100 presets designed in partnership with UVI and with Lié, Touché's companion software. Lié simplifies mappings between Touché and synthesizers with plugin host functions, as well as configurations for Touché's built-in CV and MIDI outputs.

Touché, Lié and its sounds are available a price of 399€ / 399$.
8. Touch Innovations Kontrol Master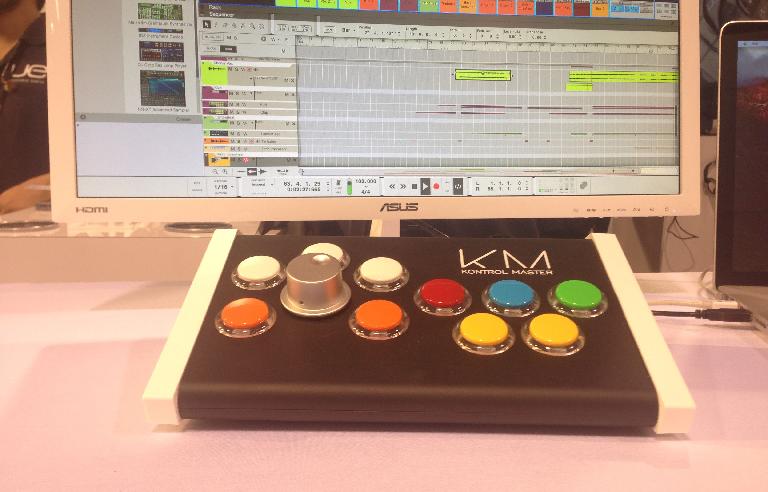 We stumbled across the Kontrol Master without a video camera to hand. But the demo the good folks at Touch Innovations gave me was impressive enough for me to definitely include this controller in our top picks from NAMM 2017. Featuring a high precision knob, the KM is designed for unlimited control of all the virtual faders and knobs in your preferred DAW or any other creative software. Simply mouse over what you wish to control and the knob on the KM instantly controls it. No mapping necessary. If you want to ditch your trackpad / mouse completely then this might not be the solution for you. But suffice it to say we were wowed by its ingenious level of control over any on screen parameter without the need for mapping.
Oh, and those arcade style buttons... very satisfying indeed.
Price: $299
9. Sonicsmith Convertor
A semi modular synth controlled by audio? That's essentially what Sonicsmith Convertor is. The Convertor is Sonicsmith's first and smallest of their synthesizers. With a simple 9V power it can turn analog audio input into analog synth waves and CV outputs. You can input audio from any source, and the demo we got at NAMM was via a microphone. Very cool, very interesting. We're looking forward to giving this a proper test.
The Squaver P1 was also on show and worth checking out. Both synths will be shipping around May 2017 and Squaver P1 will be available in the region of $650, the Convertor $350 USD.
10. Buchla Aux Card for Buchla Music Easel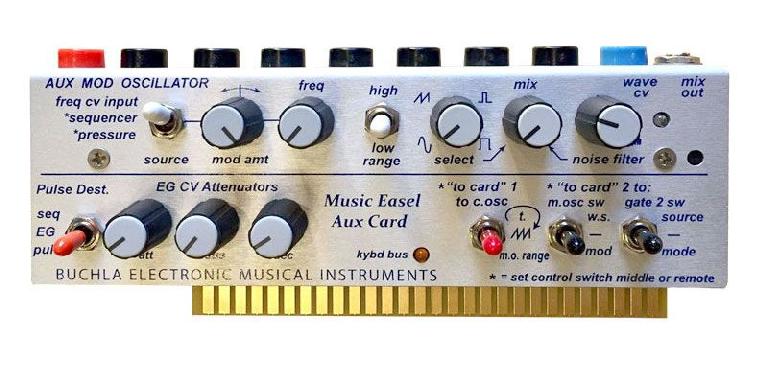 The Aux Card offers an auxiliary modulation CV source and noise source in low range and a CV/audio oscillator source in high range that can be mixed with the noise source. The noise source also can be filtered. All these parameters are CV controllable. In low range this auxiliary modulation oscillator allows the 208's Modulation Oscillator to assume audio duties and can be used as the modulation source for a variety of uses. In the keyboard bus setting, it provides a tuning reference for your 208 or can be controlled with internal bus capable 218e keyboards.
They have also given you more control with more inputs and added one more pulse input to give you a choice of switchable destinations. They also added switchable control of timbre pot and switches via the "to card" inputs already on your 208. Did you know you could CV control switch settings? Destinations include the timbre wave shape, the Modulation range, gate source, the VCA LPF mode, the Modulation wave shape and Modulation Variation.
Price: $799
Web: https://buchla.com/product/easel-aux-expander/
Learn more Buchla in the AskAudio Academy here.
11. Polyend SEQ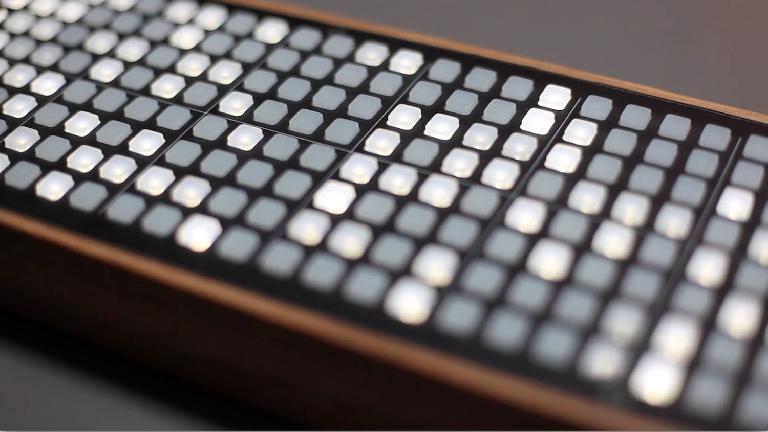 Again, our videograper had gone AWOL / was having a well earned rest on the last day of NAMM 2017 when I finally got round to greeting the super innovative guys at Polyend. You may remember their PERC? Well, SEQ is one of those bits of gear you literally don't want to stop playing with. I was close to missing my flight back to the UK because I couldn't tear myself away from SEQ.
"Equipped with a wide array of ins and outs, it allows you to communicate freely with other devices of every era and genre. You can also feed tracks with MIDI notes using your favorite MIDI controller. Every track can be recorded step by step or in real time and then quantized independently."

"With two MIDI Outs you can connect rhythm and/or sound machines simultaneously. You choose where to send out the signal from every track and if that's not enough, you can also use the USB port for the same purpose."
This gorgeous piece of hardware is a MIDI Step Sequencer featuring 32 steps, 8 polyphonic tracks and 256 pattern storage slots enclosed within a high quality aluminum and wooden housing. There's so much more to it than that. You'll have to wait until March 2017 to get hands on with a unit and expected retail price will be around £999. So it's not cheap.
Web: http://polyend.com/seq-sequencer/