Hardware Sequencers have been around for some time now and have grown in popularity over the last few years thanks to the introduction of advanced digital sequencers. Let's take a look at some of the most popular MIDI sequencers and what each device has to offer.
1. Social Entropy's Engine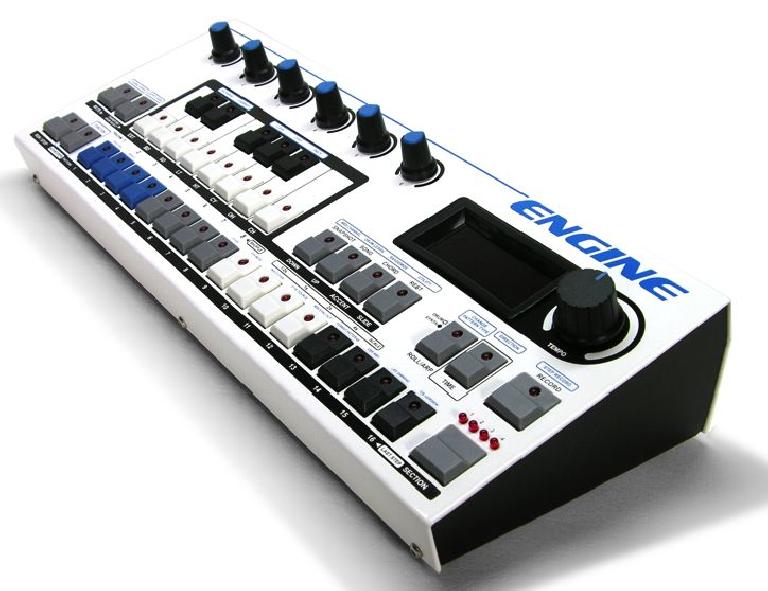 Engine is multi-facetted sequencer. The Engine is an eight track melodic and percussive sequencer, with each track having a bank of 16 patterns. Each of these 16 patterns can be up to 64 steps in length. Plus the timing for each track is independent so that you can use varied pattern lengths and meters. With the melodic synth, you can use arpeggiators, slides, accents, and even transpose the parts. Plus you can perform all the accents without having to stop the sequence, which makes it an excellent tool for live performances. You can also build up your sequencer patterns on the fly and record up to 32 songs on this device.
2. Arturia BeatStep Pro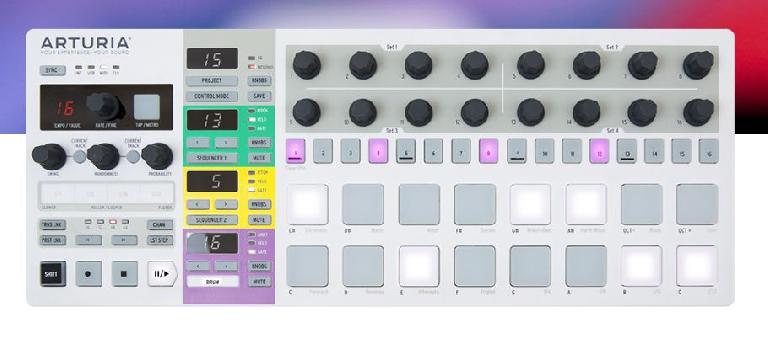 The BeatStep Pro is a sequencer that has multiple connectivity options. So if you have outboard analog and digital gear that you'd like to get connected up and sequence with your audio software, this is a nifty device to use. It can sequence melodic parts and act as a drum sequencer. It's packed with multiple ins and outs, including MIDI ins and outs and CV ins and outs so this sequencer can become the hub for all your devices. You have the beauty of working with a sequencer, plus you can use it to control your other instruments.
3. Squarp Pyramid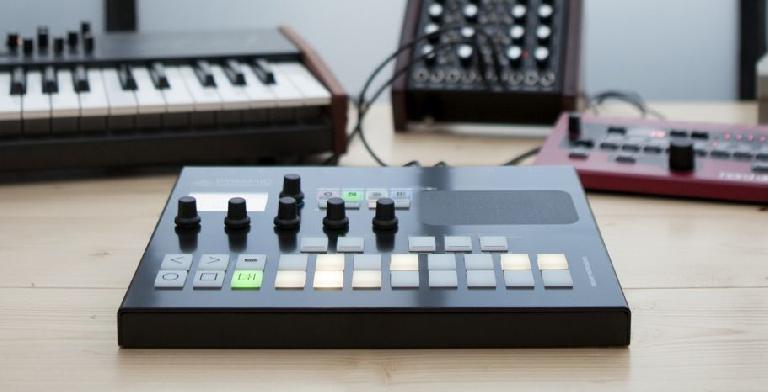 The Pyramid is a standalone polyphonic sequencer that's well designed. It's small enough in size that is can easily sit between your other gear, plus it's portable so you can pop it in your gig bag. It has your standard sequencer features plus it comes with bundled real-time effects, and polyrhythmic sequencing. It has a touchpad for touch sensitive control, and an accelerometer. The unit can handle MIDI, CV, Gate and USB controls and the interface is customizable—for example, you can set what the touchpad controls. Its biggest selling point is its ability to create polyrhythmic and polymetric sequences.
4. Native Instruments' Maschine Studio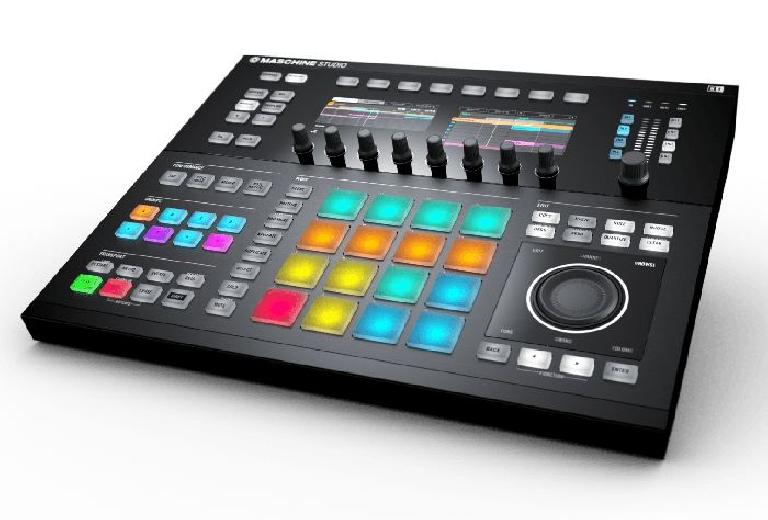 Maschine Studio is a great unit for beat production. It runs off a standalone software application or use it as a plugin in your DAW of choice. It also integrates tightly with NI's instruments and effects if you have these installed. It has multi-colored LED feedback on the pads for your sequences. Plus you can see and edit your sequences in the software. So, you have two points of reference: the hardware unit and the software. The benefit of this unit is that it can act as a MIDI sequencer, plus as a MIDI controller depending on the mode you choose. This is a great beat making sequencer tool to use, but it does have limited connectivity options. For example, it doesn't have CV or Gate outputs and can't be connected to analog gear. But other than that it's a nifty piece of gear to add to your digital studio setup.
5. Elektron Octatrack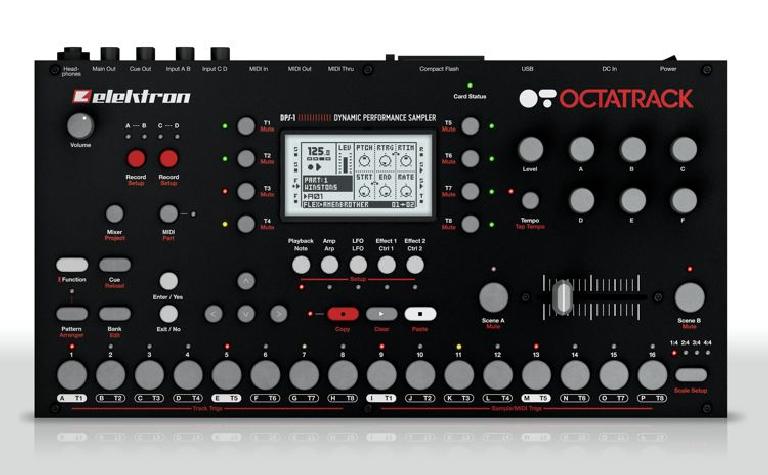 This unit by Elektron is an eight track dynamic performance sampler. The beauty is that with each track you can apply real-time time stretching, and pitch shifting. Included on the device is 16-track sequencer. With this sequencer you can set different note lengths for each note on the sequencer, plus you can set different time signatures.
There's some extra features that are ideal at using this as a live performance tool. There's an assignable crossfader plus a huge selection of real-time effects like chorus, flanger, reverbs, and filters.
Being a sampler as well, you can pull in samples and edit them via the audio editor on the LCD screen. The unit takes Compact Flash cards, so you can use this to pull your samples in.
And there's also multiple ins and outs and MIDI connectivity on the device. So this unit really covers a lot of ground as a performance tool.
6. Novation Launchpad Pro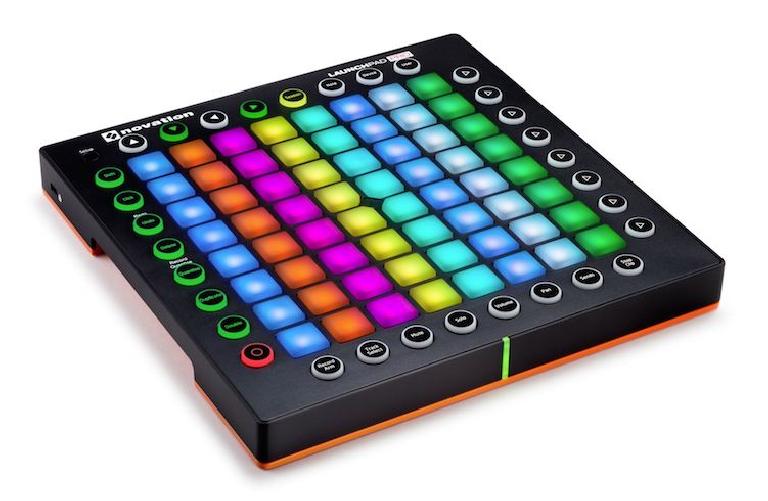 If you're an Ableton user looking for a great MIDI Sequencer to integrate into your setup, then definitely look into Novation's Launchpad Pro. It includes 64 velocity sensitive pads, which are great for beat production. But you can switch the mode so that these give LED visual feedback for sequence patterns as well. Plus you can switch to other modes, such as a mode to show your mixer, volume, and pan levels. So it's a multi-use MIDI sequencer for use in Ableton. It includes a MIDI In and Out if you want to add extra MIDI connectivity to this unit. What's missing is an LCD screen, which could give extra feedback. It is iOS compatible so you could use it as a MIDI Sequencer to your iPhone or iPad if you're running audio software on these devices.
7. Tangible Instruments Arpeggio
This unit is an intelligent hardware sequencer, arpeggiator and synthesized. So it's a melody-creating device that packs quite a punch. Another plus is that it's super small and portable. It even includes its own built-in speaker so you can go anywhere with it.
The difference with the unit versus other melody sequencers is that it allows the unlimited use of notes in your sequence and can add rests, and adjust the note lengths, tempo, octave, portamento and swing values. The unit gives you 512 memory banks that you can use. Plus these can be chained together to create complex patterns. The only negative thing is that there is no LCD screen to provide feedback. But that's really a minor missing element, as it does so much else.
On the connectivity side, you can use USB, Bluetooth, MIDI in and out, and it has a CV Gate out, so you can sync with analog and digital gear with this device.
8. Korg SQ-1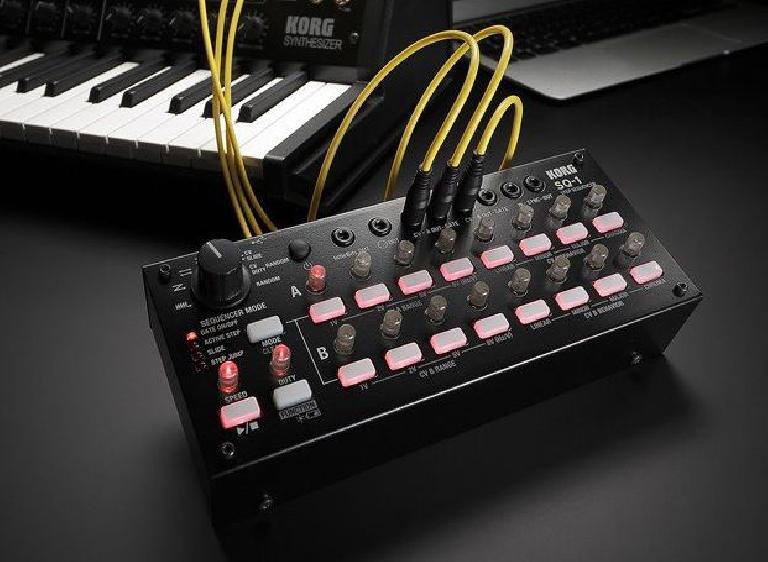 This is a compact 2 x 8 step sequencer. It's been billed as a sequencer partner for the MS-20 synth, but you can use it along with any MIDI hardware sequencer. It has MIDI, CV and Gate connectivity, plus it has littleBits outs so that you can connect the unity to littleBit synth kits. Plus there's a SYNC in and out that allows you to connect to Korg's volca and monotribe range.
It has a variety of sequencer modes (such as Gate on/off, Active Step, Slide and Step Jump), so it caters to anything from simple to complex sequences. The Slide mode is cool in that the lower row on the sequencer determines the slide amount between the voltages generated in the above row.
9. Roland TB-303 & TR-808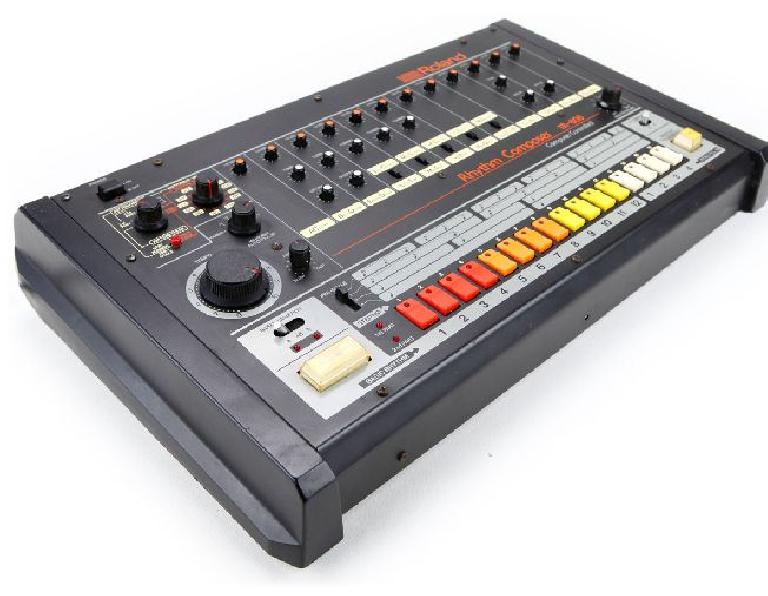 Seeing as we are talking about hardware sequencers, I'm going to have to give a shout-out to some classics. I'm going to bundle both these Roland devices into one and if you can get hold of one of these grab it! I'm grouping them together as most of the devices discussed so far are capable of melody and percussive patterns, and if these two were one unit it would be a show stopper! These are the devices that started the whole sequencer craze.
The TR-808 is the drum sequencer, where you have 16 analog drums and a memory of 64 patterns and 768 measures. There are 11 drum outputs, two mix/mono outputs, and three gate/triggers. Plus it includes Roland's DIN Sync in/out. You can hear this drum sequencer used in hundreds of records from the '80s through to today. It's so iconic!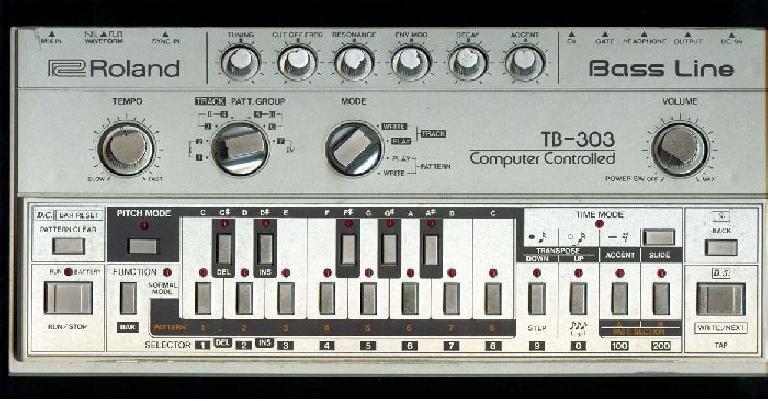 And the TB-303 is the melodic bass sequencer that has been used on countless records and has shaped the sound of the acid, trance and techno house styles. It's a monophonic bass synth with a pattern-based sequencer. It has one analog oscillator, and two waveforms (ramp or square). On the effects side, it has a VCF filter, which is great for shaping your sound with the cutoff and envelope controls.
Quite advanced at the time, these units may now seem a bit more simple when compared to their modern counterparts. But also make sure to look at Roland's Aira re-issues of these guys in their digital form. The new re-issues are great, but there's something about the older vintage models that isn't quite replicated in the new models.
10. Korg Electribe—Vintage Model, plus new model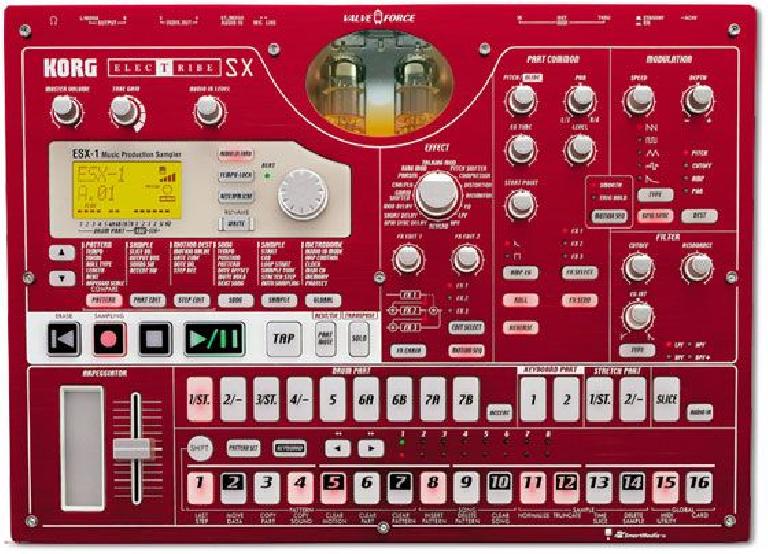 I'm a big Korg fan, so I'm going to mention another device here, the Electribe. This is a great sequencer unit that has been around for a good couple of years. But recently Korg updated this model and added a whole bunch of new bells and whistles to the unit.
The device was so popular that they have even released an iOS emulation on iPad.
And Korg has also released a new Electribe model, that is a cool blend between old and new.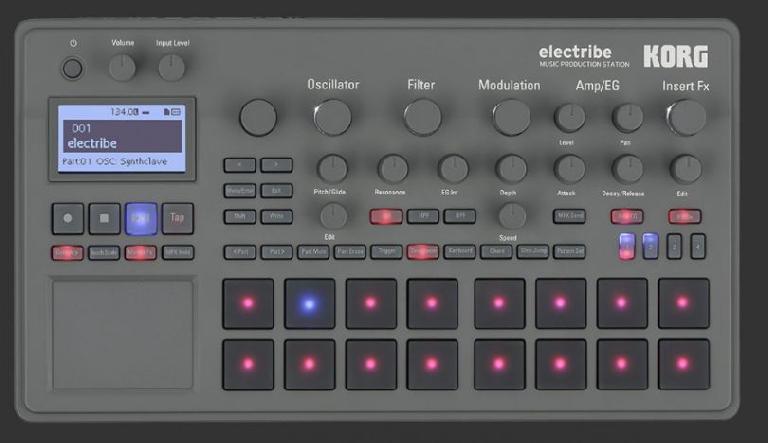 The Electribe has 16 pads used to create patterns, or you can use the pads to step in the recording pattern, and it includes a touchpad. Much like the kaossilator devices, you can perform on it by just moving your finger across the touchpad.
There is also a synth engine on the unit. This engine provides the drum sounds and some keyboard sounds. Plus this is passed through a filter section to further shape the sound of the sequencer.
On the connectivity side in includes MIDI In and Out, and Sync In/Out. So you can sync with Korg's other instruments.
11. M-Audio Trigger Finger Pro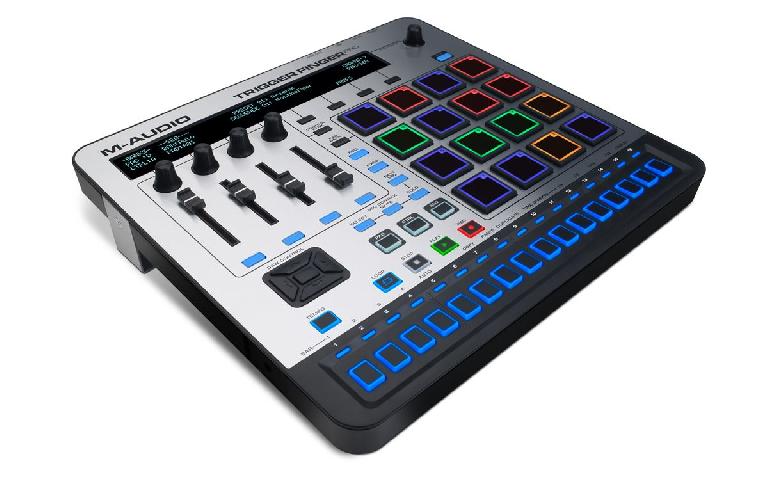 M-Audio's sequencer offering is the Trigger Finger Pro. This includes 16 velocity sensitive pads like the original. But now these pads are also RGB pressure sensitive, with backlit buttons.
Included with this unit is a 64-step sequencer. It runs in standalone mode, or you can send the step sequencer data to any external device that accepts MIDI. So you can use this to expand on the external hardware that you own.
Plus the unit supports the Mackie Control and HUI, so you can also use it as a controller in your DAW. So its great for studio use, and live performances.
Conclusion
So that gives you an introduction to the MIDI sequencer world and what devices to look out for, and what they offer. Working with a sequencer is a very different approach to other instruments, but it is a great way of expanding your music production skills and adding an element to your music toolbox. So try some of the sequencers out and see what you think of them.
Learn more about MIDI HERE