Los Angeles, CA, November 14, 2016 - 1010music (http://www.1010music.com) is shipping bitbox, a revolutionary new 26HP Eurorack sampler that features an app-style interface to provide modular synthesizer systems with on-the-fly, synchronized, 24-bit audio recording and playback of up to 16 simultaneous samples. Use bitbox to quickly record the output of cool patches and electronic jams as high-quality files. Recordings can be locked to the patch clock and recorded to bar/sync boundaries, so there is no fussing to find loop points.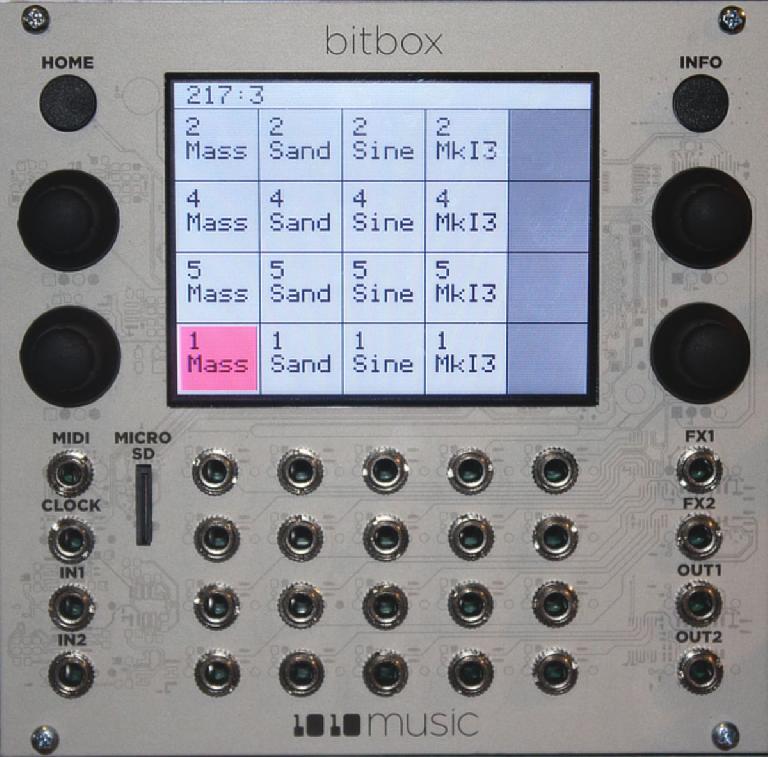 For playback, just launch any combination of up to 16 audio clips via a simple touch screen grid interface designed for speed and function. Creative options abound and include triggering samples as loops or one-shots via MIDI, CV Gate and modulation. Use modulation inputs to launch rows of up to four clips at a time to easily create complex, new layers of sounds. Save or load up to 12 banks of samples to microSD card, so you can easily recreate your set and/or use the samples and loops in Mac or PC applications. There's even support for Ableton Live format.
Bitbox adds new creative possibilities to Eurorack, with its straight-forward touch screen interface, high-quality 24-bit recording, and innovative sample manipulation capabilities.
Features:
Playback of up to 16 simultaneous samples from internal memory or up to 4 directly from microSD.
Trigger samples via touch screen, CV gate inputs, or MIDI input
Import or export WAV files with your Mac or PC using a microSD card (included)
Free samples including beats and other samples by producer Jason Donnelly (DJ Puzzle)
24-bit/48kHz stereo input for high quality recordings, with stereo output and two mono effects sends
Stereo or mono recording with the option to synchronize start/stop times to clock inputs with a maximum recording time of up to 4 hours.
Multiple clip Launch Modes, including One-Shot, Toggle, Gate, and a Repeat mode to allow quantized retriggering of clips while a key is held or via the touch screen. Normal playback resumes when the key or button is released.
Scene Trigger, which plays back an entire row of four clips/loops at once via touch screen or modulation inputs (which can also be assigned to modulate sample start, length, or pitch)
Playback can be immediate or synchronized to analog or MIDI clock
Control of sample parameters, including start position, length, gain, loop mode, launch quantization and pitch, including pitch modulation via CV input
Save/recall up to 12 different banks of samples and their configuration
Import bitbox Presets (a 4x4 bank of samples with playback parameters) directly into Ableton Live
Accepts TRS MIDI input compatible with Arturia and other products
26 HP Eurorack compatible. +12V: 350mA, -12V: 0mA, 5V: 0mA
bitbox can be purchased for $599.95 direct from 1010music starting 11/11/2016 or through it's fine network of dealers you can find at
1010music.com
. For user or dealer inquiries please contact
sales@1010music.com
.