1010Music, makers of highly regarded Eurorack modules such as Bitbox and Synthbox; now bring you Blackbox - the standalone, touchscreen sampling music workstation. It is on display March 29-31 at SYNTHPLEX (https://www.superbooth.com) in booth 35.

Blackbox is a portable sampler and groovebox that lets you record, save/load, apply effects and edit one-shot samples and beat-sliced loops. Create sequences with samples by tapping on pads, playing a virtual keyboard, using external MIDI controllers or by drawing-in notes using a standard Piano Roll editor on a fast touchscreen interface. Sequences can be played back to create song sections and entire compositions. Finish your song by mixing it, adding stereo effects and by saving it as a Preset for fast and easy recall.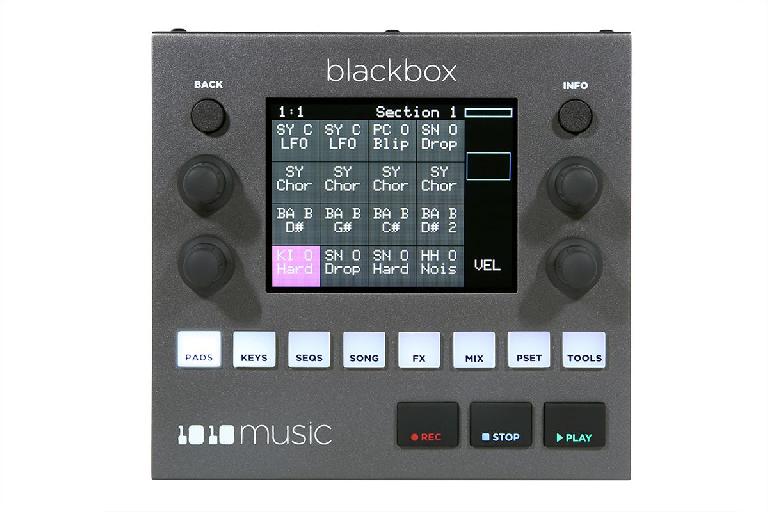 Perform songs live and trigger samples on the fly. Blackbox makes it easy to create and perform music anywhere thanks to its compact and rock-solid hardware design. Just throw it in a backpack and hit the club. Record hours of song ideas, jam sessions, and performances thanks to a microSD slot that enables you to expand internal memory.

Blackbox comes with gigabytes of premium samples and loops by SoundTrack Loops and Loopmasters to let you start making beats right out of thebox.
Features
Record/edit samples and sequences to create songs via a fast, intuitive touchscreen interface.
Expandable microSD memory slot for importing WAVs, hours of audio recording/playback time and saving samples and Presets.
Combine loops with different tempos using built-in BPM synchronization and beat-slicing.
Play one-shot samples and loops from pads and/or a virtual keyboard.
Create and edit sequences using a standard Piano Roll interface.
Connect external hardware via USB to expand performance and control capabilities.
Make music anywhere thanks to a compact and nearly indestructible design.
Includes a sound library of beat packs with loops and one-shots by SoundTrack Loops and Loopmasters.
Input/output connectors to easily integrate with other studio and live sound tools: MIDI IO and Clock via USB and TRS, one 1/8" Audio In, three 1/8" Audio Outs plus a 1/8" Headphone/Stereo Output and USB power.