If you're tempted by gear and software that professional video and sound creators use, then you'll love this new contest from macProVideo. There's gear on offer here from Adobe, Avid, GoPro, RØDE, iZotope, Red Giant, sE Electronics, Telestream & Waves.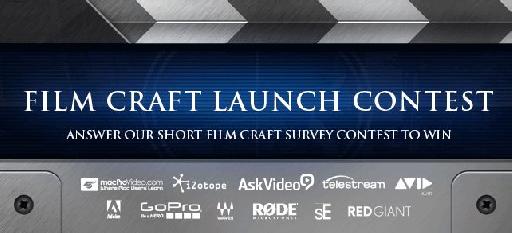 How to Enter
Simply follow this link

Complete the 18 survey questions

Create a free account (or login using your macprovideo.com account)

Tell your friends!

What is Film Craft?
Michael Wohl is an award-winning filmmaker, best-selling author, and renowned educator with more than fifteen years of experience teaching film production at institutions including UCLA's Graduate School of Film & Television, the American Film Institute (AFI), San Francisco State University, and many others.
His series of five Film Craft courses will get you well on your way to mastering the complex and exhilarating craft of filmmaking; teaching you a wide range of topics across five main categories: Producing, Directing, Cinematography, Production Sound Recording, and Editing.
Here's a preview video from Film Craft 103 on why storytelling is important:
Each course contains more than 20 in-depth tutorials intended to take you from layperson to expert; introducing you to the lingo and techniques used in Hollywood, but streamlined to highlight the procedures essential for small and independent productions, regardless of whether you are producing drama or documentary, comedy or corporate, suspense or sports.
Watch the entire Film Craft courses here:
http://www.macprovideo.com/filmcraft
Enter Film Craft Contest here:
http://www.macprovideo.com/hub/news/win-10000-pro-gear-in-film-craft-launch-survey-contest