This article has been written using my real-world experience of developing the Mask Movement label. It is the result of years upon years of cooperation with prolific artists across different mediums. Our projects have had support from reputable media brands, including: Complex, Ask.Audio, UKF, Dezeen and BBC. We've done a few successful projects with Loopmasters, Juno Download and M-Audio and collaborated with Joe Perez (art director at Kanye West's studio DONDA), Balkansky and Renato Marques. On top of it, our other collaborations received Vimeo Staff Picks, FWA and Webby Honoree Award. There's so much more, but I'd like to keep it short and give a few proven tips, that should prove helpful when you start your own music label.
1 - Get Down to Business. Don't Hesitate.
Firstly, ask yourself a few simple questions. "Do I really want it" and "Am I really ready?" Doubt is the main enemy. If you decided to share your ideas with the world, do it without hesitation. No need to wait for the "perfect moment" in life. But start only when you feel that you are ready. Even if you don't know how to do it right yet—follow your heart and dreams, ask some friends, find some answers in Google. Then express yourself the same way how you wanted to see your own label.
2 - Mixing and Mastering Quality Control
Once you've started building a label and already have a label name, concept, some creative ideas and story to tell, the second important thing is the quality of your records. Again, you need to control quality of your records if you want to build a good reputation and want people to consider your label to be professional.
Get yourself a pair of good speakers and headphones, try to find a way to test records in a studio, in the club, in the car and other locations, just to make sure it sounds good everywhere. That's really important. If you are not sure or experienced with the mastering process, find a professional mastering engineer who will help you. And don't forget to ask for the portfolio of the engineer, just to make sure they really know their craft!
3 - Make Your Own Decisions
If you are a DJ or music producer with experience that's even better, but if you don't know much then try to share your tracks with skilled music producers or DJs firstly and ask what they think of it. Even if you don't know a lot, just send them to a friend who listens to your kind of music. Don't release unfinished tracks on Facebook or SoundCloud or spam people too much, it might destroy your reputation. Take your time and listen to people. Don't take negative or positive comments too personally. Really, listen to people! But always, always make your own decisions.
4 - Limited Budget Creative Branding & Design
Good design is the face of your music. Branding is like a body. You need to show people a good and attractive visualization. The same for music, it should be a quality product. If you have a budget for a designer that's great! If you don't, please, do not use illegal images from the web or stock pictures. This is art, be creative! Maybe try to send your release to a good designer and ask him to work with you to increase his or her "portfolio" or in exchange for some music for his reel. You can also help to promote his name and website with your fan base. On top of it, when you will have some money for design, you can pay him in the future and build a good relationship during this time.
5 - Build a Team And Develop Together
As I mentioned above, it's important to have quality design. Music videos are very important too. It's hard for indie labels to find even a few thousands dollars to spend on video though. Imagine, if you want to release a few singles in a row!
If you have good and quality music, and if you have a portfolio already, share it with some visual artists and ask if they are interested in cooperation. You will need to have good presentation and let them know what you can offer in return if your budget is tight. Feel free to use Vimeo or Behance to find interesting visual artists. Maybe they will be inspired by your music and ideas of your label, so you will be able to build a mutually beneficial partnership and win awards, such as Vimeo Stuff Picks or premiere your video on Jay Z's Life+Times.
6. Think Like a Futurist. How Will Your Records Sound in 10 Years?
Do you want to create a label with music that will be relevant just now or you are trying to create releases that can be interesting for listeners even in 5 or 10 years? There are a lot of trends and charts, but there's also a history of music in the end of the day. Here are words of wisdom that can be applied in this instance: "What we do is not easy, it's not easy at all. You have to be mindful of history, because it's not about making a moment, it's about making history." — Michael Jackson
7. Cooperate With Other Brands
No need to be afraid of cooperating with brands and companies, try to use this experience in a positive way and find benefits for both sides. If you already have 4–5 releases in your pocket, then you need to research which brands might be interested in this kind of music right now. Prepare a quality portfolio, tell your story, try to present yourself and show some arguments why this cooperation can be useful. Even if they don't reply now, they may call you in the future.
Here's a quick example. One of the tracks of my label Mask Movement, located in Ukraine, was picked by the brand manager of M-Audio to score their newest series of MIDI controller keyboards "CODE".
Read our review of Code here.
See the video of M-Audio Code featuring Histibe's music here: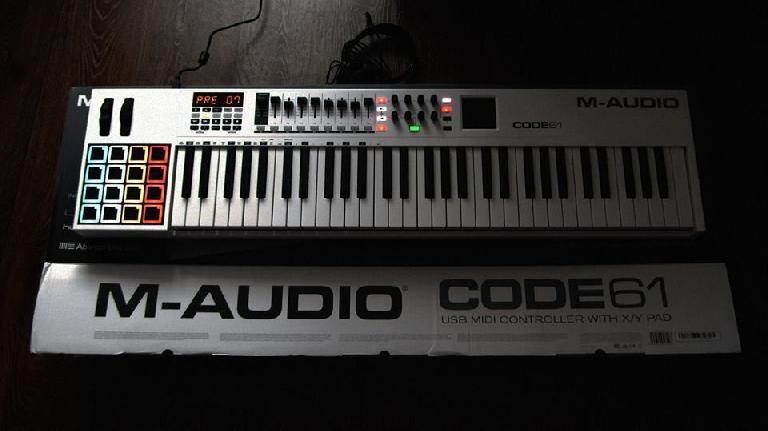 8. Collaborating With New Producers Brings New Experience and Promotional Opportunities
It's easy for many of us to feel... but try not to be jealous of other artists that are stepping into your "territory". If you like somebody's art—try to let him now about it. Why not? Then see what can come of it. For example, you might find that he or she was actually inspired by your label or artists you've worked with, but he or she was too shy or simply busy and wasn't able to let you know about it. Talk with other creative minds, it's a good way to find new producers or remix opportunities for your forthcoming release and further promotion.
9. Feeling Lost? Take a Break and Re-Create Yourself
Sometimes we become tired, and ideas can be blocked or start to dry up by everyday routine. This is pretty natural. Try to switch your mind to something else for some time. Call your old friends, visit your parents, or take a trip to the mountains. If you're a workaholic that can't chill without a job or a task to do, then try to focus on something else, like, cinematography or design, learn something new and come back with new inspiration!
10. The End of Your Road?
Almost everybody wants to benefit from it at the end of the day, and if they say they don't—well, they're probably lying. Benefit can be material (royalties, contracts with brands) and emotional (fame, positive comments from friends or other artists). Be honest with yourself and try to figure out your current expectation and long-term goals.
You can receive support from reputable media or DJ for now and after this you can move forward and find some more opportunities and placements for your music releases. Just don't stop. It might sound like a cliché... but, try to do something good for people, something positive for the world around you through your art and it will return soon. Find your niche and keep creating!
Interested in learning more about the business side of music? This video course series on Music Business is essential viewing!