1. The headphone jacks aren't working
It's happened to me a handful of times already. You launch your DAW (I happen to use Pro Tools 10) and see audio on the Apollo meters. But no sound comes out of the headphone jacks. It's simple - don't forget to launch the UAD Console. As soon as you do, your glorious audio will come streaming out.

2. The incredible shrinking screen
Don't need to look at the full Console Screen? Shrink it down to see only what you need and give your senses a break. In the Input View section, press the S/PDIF button if you want to hide those channels from view. By pressing the ADAT button, it will first hide ADAT channels 5-8 – pressing it again will hide ADAT channels 1-4. The ANALOG view button will also hide 4 channels at a time. To see all channels again, simply step through each of the buttons – the channels will reappear. Note that AUX 1 and AUX 2 will always remain onscreen.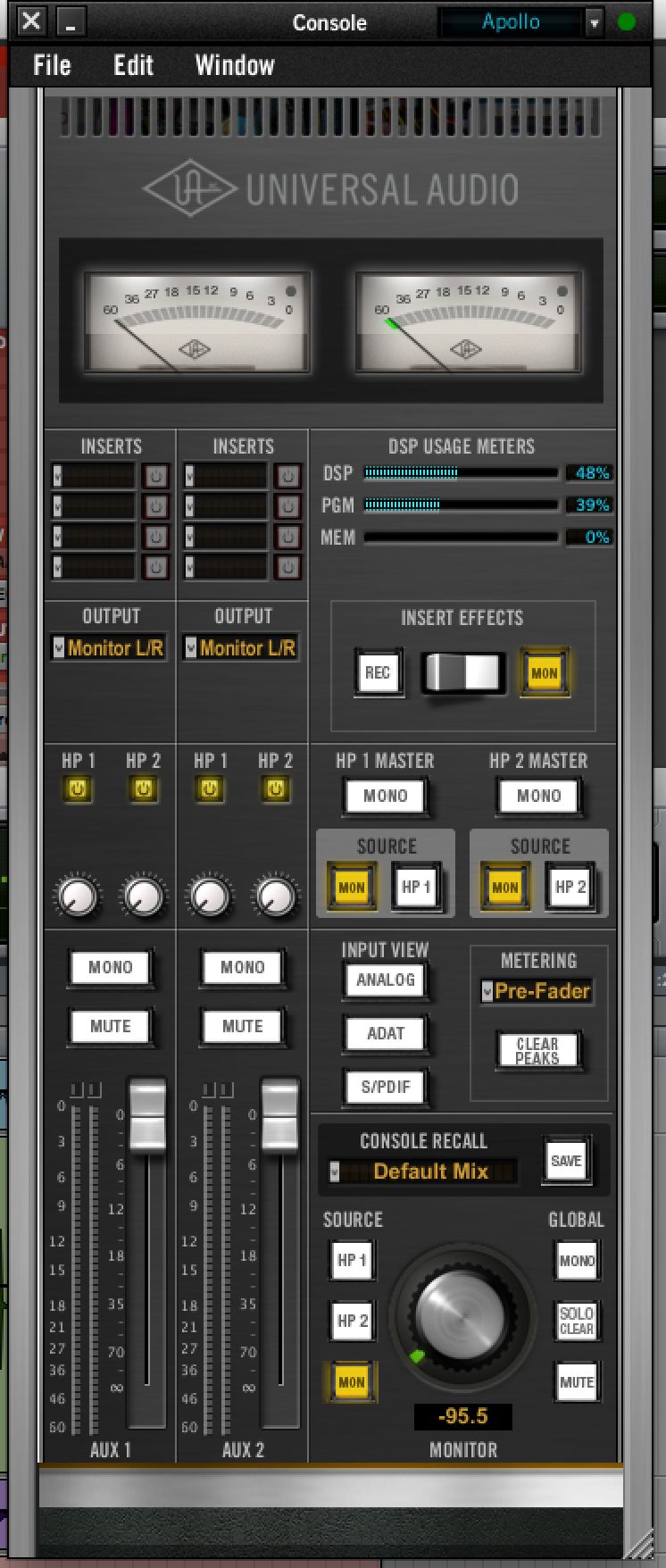 3. Total Recall
Make use of the Console Recall. This lets you save a variety of fully preset consoles and recall them easily. For example, I like to have an All Mutes (with all channels muted), a 4 Channel Analog Only, and so on. It will remember all settings – from the Preamp levels and Effects to the headphone setups. To recall any of your presets, simply click on the Console Recall text window and select your saved recalls from the drop-down window. In the heat of a session, it's quite a timesaver.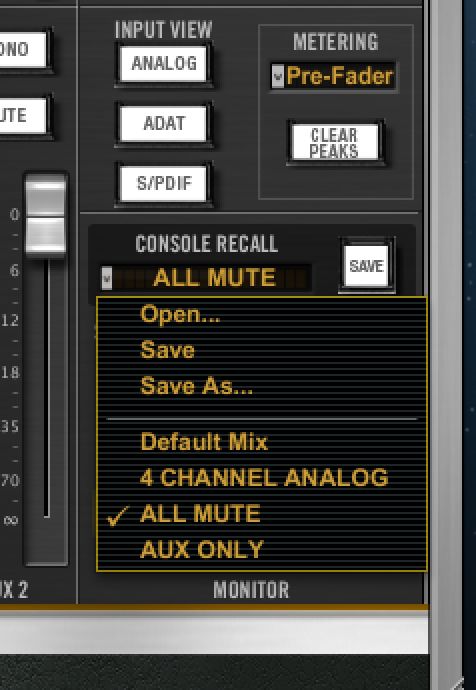 4. Check Your Clock
Many Apollo users will be taking advantage of the ADAT optical inputs to use external preamps. When using a preamp with a digital output, be sure to set the Clock Source accordingly in the Console Settings > Interface > Clock Source drop-down window. Once you're locked and loaded, the Ext Clock light on the front of the Apollo will turn green. Also, make sure to set your preamp to the same sample rate as the session. When I first hooked up my Focusrite ISA 428, I couldn't get any sound, even though I was clocked properly. The sample rate on my preamp was different than my session. Once I had them set the same, it was game on.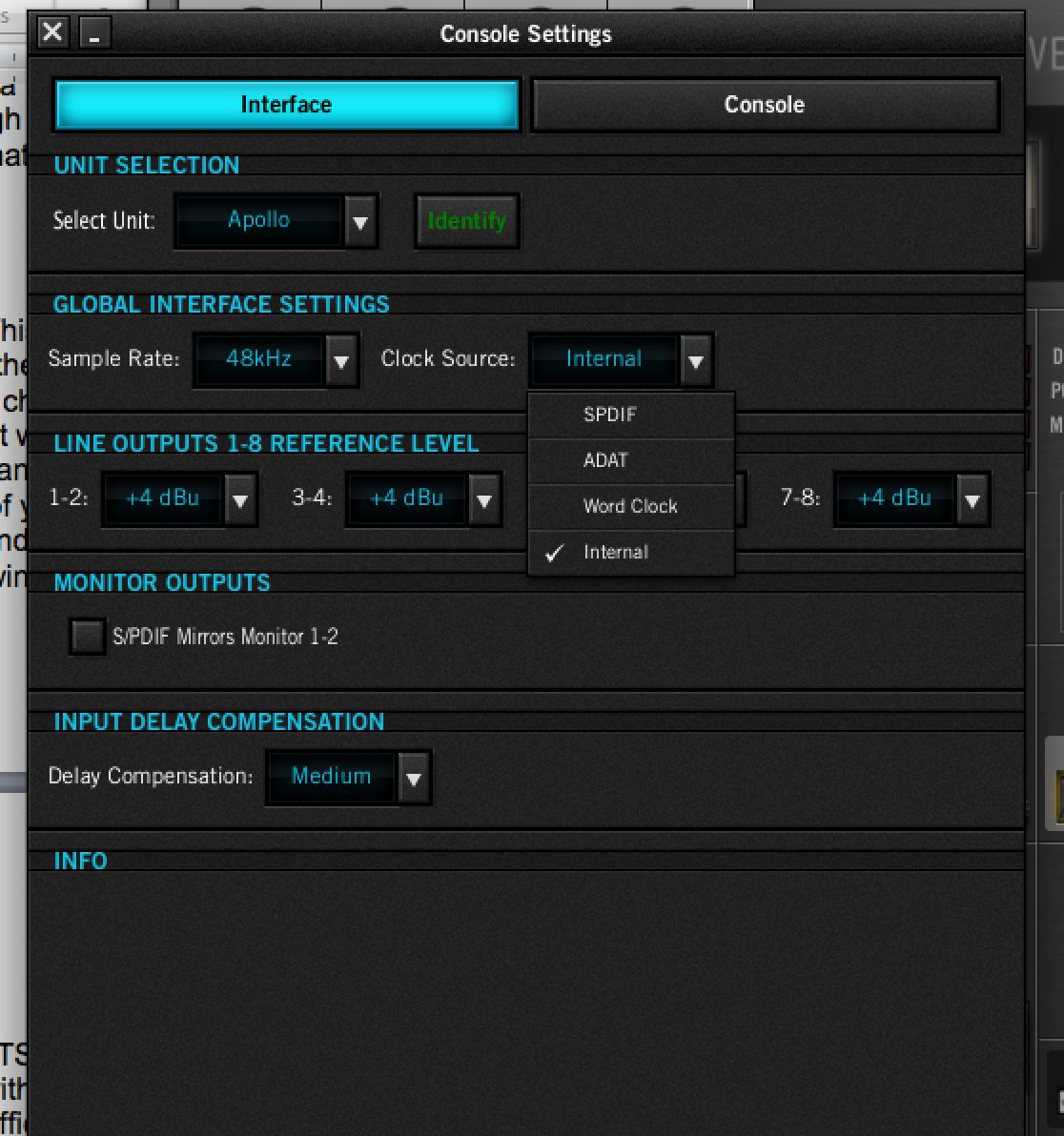 5. Record and 'Print' Effects
If you want to track your session with effects and 'print' them, use the Insert Effects switch. UA officially calls it 'Realtime UAD Processing'. For example, if you'd like to record your guitar with an EP34 Tape Echo, add that plug-in to the said channels plug-in Insert. Get your sound dialed in, and select REC on the Insert Effects switch on the right side of the console. When you start recording in your DAW, the guitar will then have the EP34 effect on it – even on playback.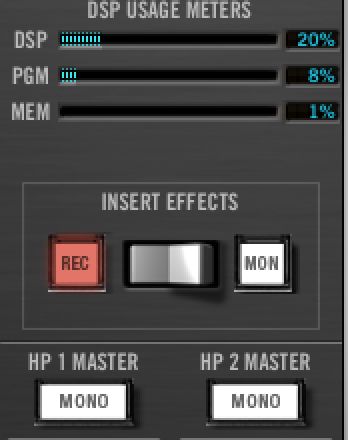 6. Record and 'Monitor' effects
If you prefer to record with the effect on but just monitor it live, switch the Insert Effects to MON (monitor) and keep the plug-in on the insert as mentioned above. This way, you'll be playing your guitar through the EP34 with that magic vibe, but the echo effect will not be printed with your guitar audio. This gives you more control during the mix stage – as you can change it up later. However, printing the effect then frees up processing power for you when you need it. There is no right or wrong way.
7. Another way to monitor your effects
In the example above, the effect was added directly to the insert of the track. However, you can also choose to use the Aux Inserts. So instead of applying that EP34 to the channel directly, put it on one of the Inserts of Aux 1. Make sure the effect is on (enabled) – you'll see the button next to the insert turn yellow (on). Then, back on the console channel, turn up the first Aux send (the white knob, not the black panner), until you hear the desired amount of effect. Note that it will not be tracked, just monitored.

8. Don't drive
A small but important feature is to understand that the dual FireWire 800 ports on the rear of Apollo will not power your external hard drives. I kept trying to hook up my small portable drives to them and was wondering why they weren't working. After reading the manual and finding 'Apollo cannot be bus powered and it does not supply bus power from its FireWire ports to other devices', I understood why.
These two FW 800 ports are generally used to connect to your computer when the Thunderbolt option is not installed. Of course you only need one port to do that – the other can have a powered drive attached or even be used for a UAD-2 Satellite.
9. Thunder and lightning
We may as well talk a bit more about Thunderbolt. I paid the extra money and installed the Thunderbolt card myself (a simple, 2 minute process). Thunderbolt is simply a small cable that combines PCI Express (PCIe), a DisplayPort (DP) and DC connectivity for power. Interestingly, it was developed by Apple and Intel and features 10 Gb/s of throughput in both directions (its approximately 12 times faster than FW800).
The benefits of running Apollo with a Thunderbolt card are several. To begin with, you have two ports on the card – allowing you to connect hard drives or displays. Now you can use both FW800 ports for drives. But you also get much faster throughput than FW800, which helps reduce latency and allows you to run more plug-ins at a lower latency. On my rig, I like that fact that it's a one cable hookup to my MacBook Pro – and I'm up and running at max speed.
10. Ok, do drive
If you do have a small FireWire drive that needs power, and have the Thunderbolt option installed, pick up a Thunderbolt to Firewire Adapter cable. Plug your drive into the adapter, and then into the free Thunderbolt input. You're fully powered and ready to rock.