Want to enhance your music compositions for new media like films, games, and online media? Adding sound design elements to your tracks, or visuals—even if there's no accompanying music, the effect can make a huge impact on the viewer experience. Let's take a look at some tricks that can get you into Sound Design and its importance with media.
1. Swells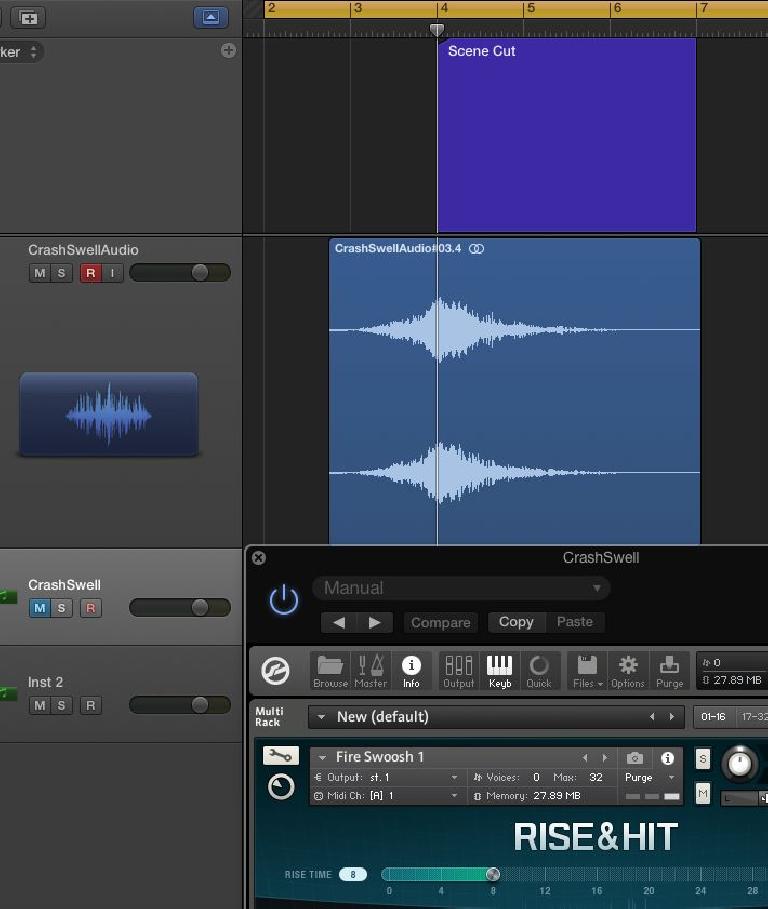 If you're working to film or television, or even a game animatic, and there are transitions in the video, a great way to add extra emphasis to these visual elements is to use some form of swells. What works well are crash swells. I often find it's easier to work with an audio sample. So if you have a crash swell in a sampler instruments, I record it in via MIDI and then bounce it down to audio. Now you can see the visual waveform of this swell. Line up the peak of the swell with the transition of the video edit. Now play back the video and hear how this adds interest to the transition.
Chimes or mark trees samples also work great with transitions. Especially with lighter themes, like Christmas of fantasy. Do the same thing that you did with the crash swell. Pull in the highest peak of the chimes sample where the video transitions is and then see and hear how this emphasizes the video transition. If you're looking for a software instruments with some swells, check out Native Instrument's Rise and Hit. It has a great selection that you could bounce down to audio and use in later projects.
2. Synth Pads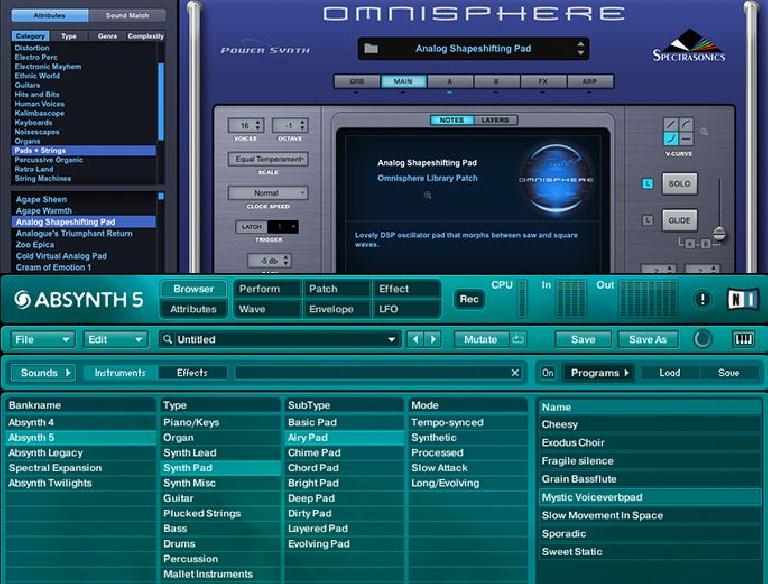 You can't go wrong with having a selection of synth pad instruments with some great go-to presets. I'd highly recommend Omnisphere, Absynth, or Alchemy. These instruments are tailored towards cinematic material and have a great selection of ambient pads. You can use these pads to create mystery and intrigue or tension in your sound design. Or even as transitions sounds. Let's say you have two music tracks, you can crossfade between the two tracks and add in an ambient pad that plays over this to create more interest between the transition of these tracks. Plus it helps smooth out the transition between the two tracks.
3. Reverses

Reverses are a great way to add anticipation in your sound design. The reversed sound builds up to where its transition is at its peak and here you can sync it to your visual to give the ultimate impact to a scene.
Classic sounds that work well as reverse build ups are crash cymbals and snares. But you can also make use of other types of sounds like synths and pads. The key is that the sound has a hard initial attack and then it tails off. This way when you reverse it, the tail creates the build up to the hard attack transient.
What also works well is to have the reverse sound build up to the original sound. So, for example, take your crash, and make a duplicate of it. Then reverse this crash and drag it so that its end meets the beginning of the forward crash. Sometimes you may need to add a very small crossfade between the two to smooth them out.
4. Reverbs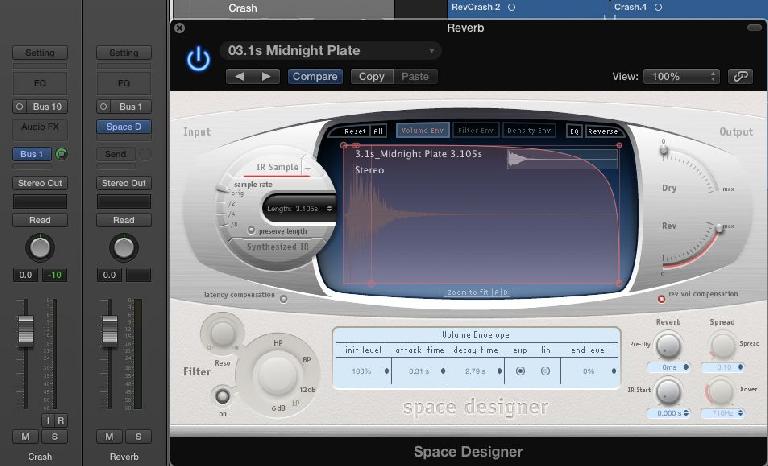 I find reverbs to be especially helpful tools when getting into sound design, especially if you're working with audio files from different sources. You can either use reverbs on each track or use a bus to share a reverb across different tracks. Reverbs will help gel these different sources together.
You can also use reverb in a creative way in your sound design. You can use long reverbs such as plate reverbs with lengths two seconds or longer. And by applying huge amounts of reverb you get these extended reverb tails that can help transition between sections in your media. Also, look into an Impulse response reverb with long plate reverbs. This is a great tool to add to your audio palette.
5. Spectral Sound Tools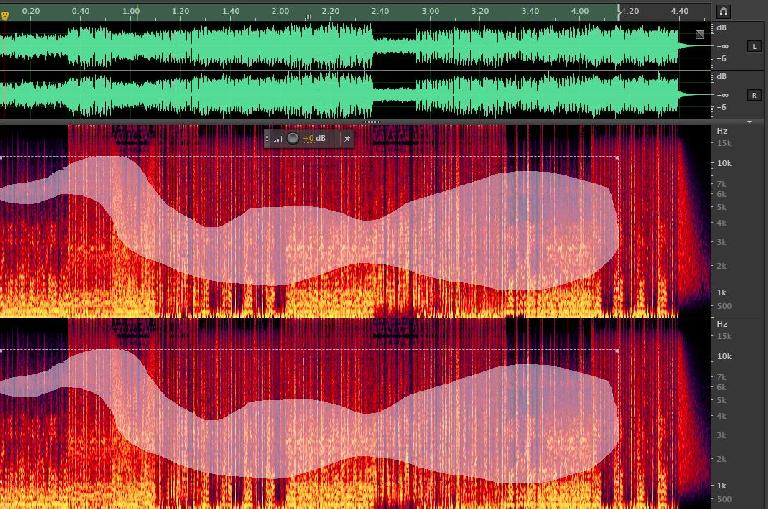 Audio spectral editors are also great tools to add to your arsenal. They allow you to edit your sounds in unique ways by using spectral filtering techniques. Your audio is displayed on a spectrograph that shows the frequency (in different colors) and time (in length horizontally across). You can manipulate the audio by drawing or painting onto this spectral view, which changes the frequency and harmonic content instantaneously, giving you a new sound in a matter of seconds. You can even import images into these applications and convert them to sound, giving you extra means to create and design new audio for your projects. I'd recommend looking into Audition.
Here's an article on how to use its spectral editing functionality: https://ask.audio/articles/spectral-audio-editing-in-adobe-audition
iZotope Iris is also capable of spectral editing: https://ask.audio/articles/drawing-pad-sounds-with-izotope-iris
And FL Studio's Harmor is also great at spectral editing and synthesis, plus converting images to audio: https://ask.audio/articles/exploring-the-weird-and-wonderful-using-image-synthesis-in-harmor
6. Layering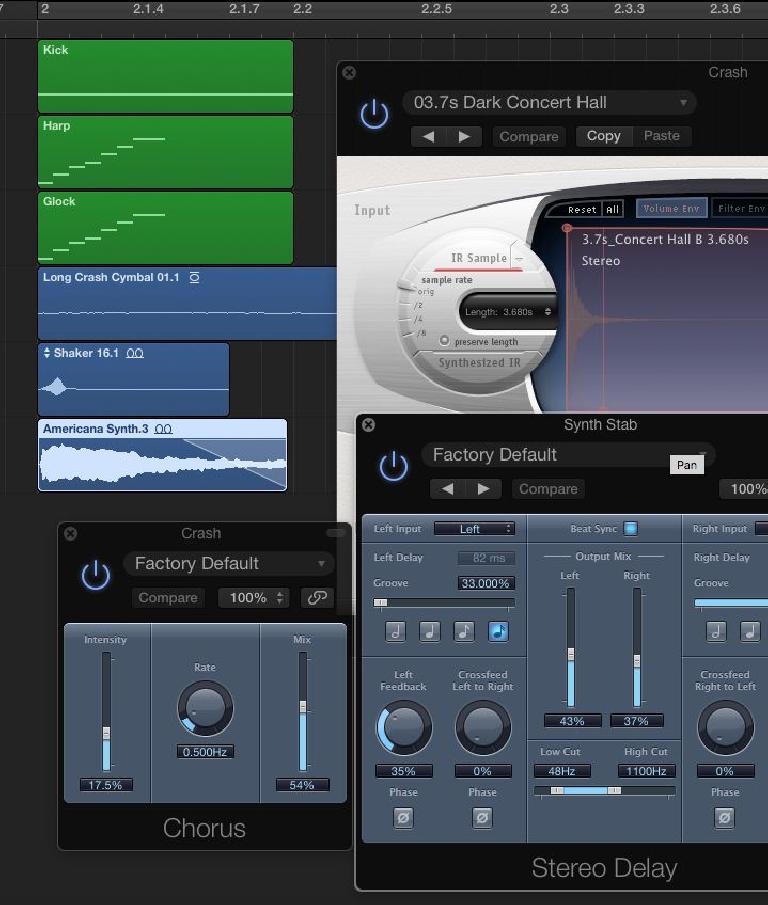 Another key aspect in sound design is using multiple audio elements to create one unique sound. This is done by using layers of sounds and often making use of heavy processing on each of the individual sounds. Here you can let loose with experimenting. Take a couple of different sounds: maybe a synth stab, a crash, a kick drum, and a shaker. Stack these sounds all on top of each other on different tracks in your DAW. How about also adding a quick glockenspiel and harp flourish.
Then apply different forms of processing on each track. Maybe on the synth stab you want to add a delay effect with some reverb. Then on the crash add a different type of reverb and maybe some chorus to add some modulation to the sound. Then on the Kick add a bass boost at 80 Hz, cut everything above 600 HZ, and then add another type of reverb. Then after this, add some tape saturation. Then on the shaker add a faster delay, another type of reverb, and then add a flanger.
Now send all these tracks to a bus. Add a compressor on here to gel the sounds together, and then add a reverb also to help the sounds sit together.
So that gives you an idea how you can blend sounds together to create unique effects.
7. Tension and Release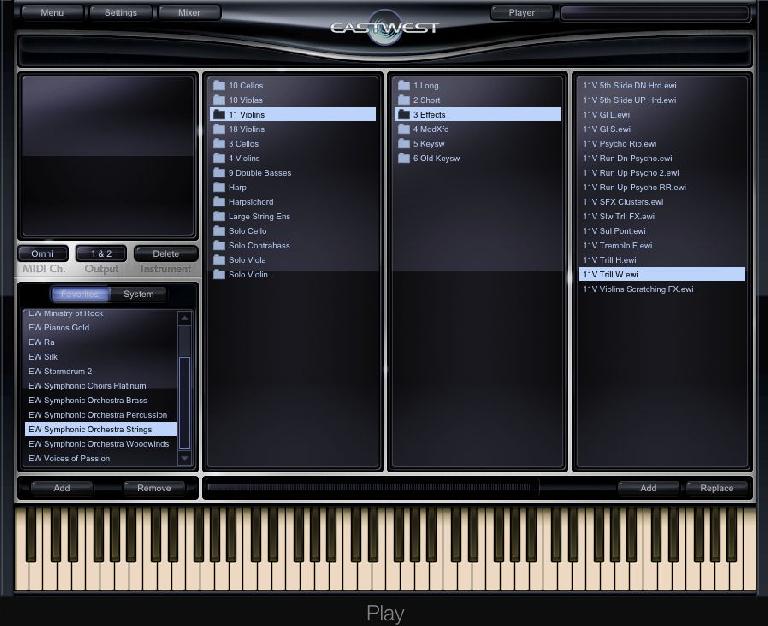 In your sound design, you can create tensions (dissonance) and release (consonance) by making use of different instruments and note intervals.
For example, you could use some orchestral string half note string trills to create some tension. When you jump to whole note trills, you'll hear how there is less tension between the notes. Whole note trills work well to create intrigue and fantasy in a piece. There are great string trill patches in most of the popular sample libraries like EastWest and Spitfire.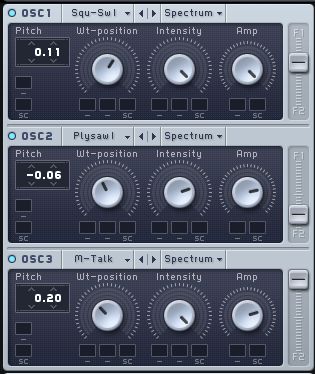 You can do the same with synths. You can detune the oscillators so that it creates some tension and shimmer. Usually when the oscillators are detuned by about 20 cents you'll get some dissonance between the oscillators. You could even automate this detuning of the oscillators, so it goes in and out of dissonance (tension) and release.
8. Filter Automation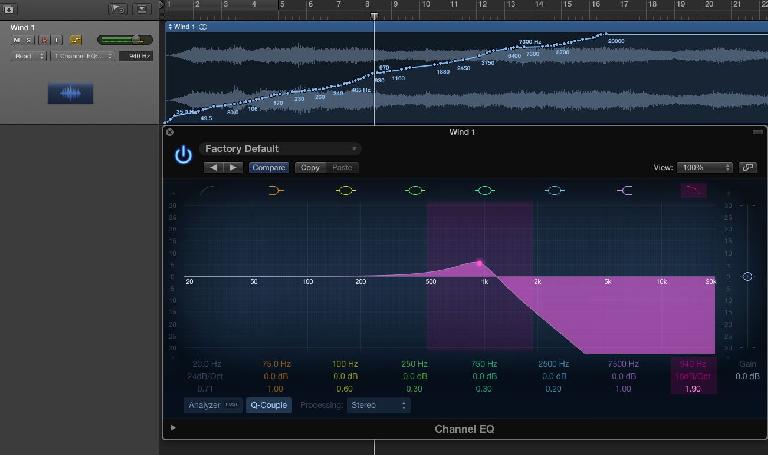 Filters are great friends when it comes to sound design. You can use them to tonally shape your sounds, and what's even better is automating parameters on a filter to create unique sound design elements.
Choose a filter plugin that you have in your arsenal. Select a sound that is quite long, maybe a sustained pad or what even works well is a white noise sample. Now let's automate the high cut/low-pass filter. Start with it all the way at zero and then automate it all the way out to 20 000 kHz. Hear how this creates a great sweeping effect, which can be used for a sound effect between cut scenes, plus as a sound effect that you can use in your compositions for buildups.
9. Field Recording for Sound Design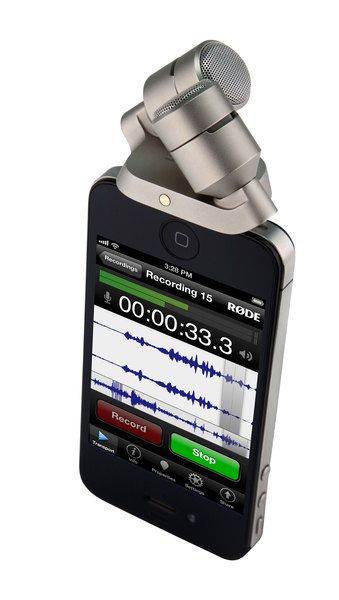 When you can't quite find the right sound, sometimes you need to get outside and search for it. That's where field recording devices come in handy. Take a look at some that are available or even look into the field recording mics that can be added to the iPhones if you have one.
Sometimes the most unlikely sound is exactly what you need for your project. Maybe you need a rocket sound and can't quite find the right one. Record the sound of a leaf blower, and then process it heavily and see how that works.
So it's all about experimentation with field recording. Record some everyday sounds that inspire you. Bring them back to the studio and manipulate them for other uses in your project.
10. Stretch and Shift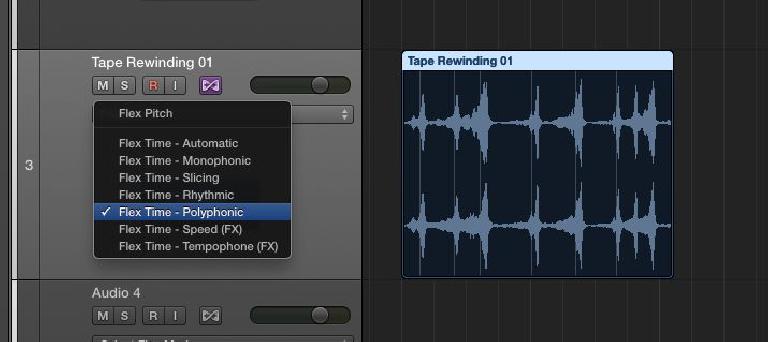 When working with sounds and visuals, sometimes the two don't quite match. Maybe the sound is too short. Well, that's where Timestretching comes in handy. Many DAWs offer built in Timestretching tools (such as Logic's Flex Time, and Cubase's Varispeed), or you can look into some third-party applications like Melodyne, SPEAR, Stretcha, or zplane. These types of software employ advanced algorithms to time-stretch the audio. And you often have to specify what type of material you want to edit such as monophonic, polyphonic, rhythmic and so.
Often closely related to Timestretching is pitch manipulation. Sometimes when you stretch out a piece of audio, it also alters the pitch. Some algorithms allow you to retain the pitch while others distort it. But you can use this to your advantage. For example, you could record your own vocal, and then use the pitching software to pitch your voice low down, and instantly you have an awesome sounding enemy or monster voice.
So by using these tools you introduce artifacts into the sound that wasn't previously there, but you manipulate the audio in this way for desired results.
Conclusion
Those were a few tips for you on how you can improve your sound design techniques. With sound design, it's about using different elements of sound and creating something unique by the combination of the sounds, and tools and tricks that you have. So try some of these out and see how you can add interest to your new media projects.
Learn more on Sound Design: