Generally with Logic Pro incremental updates, you know you will get some bug fixes and behind the scenes performance improvements and enhancements that, while very welcome, will not be particularly exciting. But this one surprised me, as there are many, including one that I personally have wanted since Logic 1.0 !!!
#1—New audio preference for multithreading live tracks to improve CPU performance when processing multiple live channels
Logic Pro X's Live Mode has always allowed it to run more plug-ins and software instruments than other DAWs by having armed tracks go to 1 core while all others were assigned to a higher buffer, but has lead to the 1 core getting overloaded with large instruments armed. This seems significantly improved now. See Pic 1 and Pic 2.
#2 - Retina support and redesign of over 30 plug-ins
Check out Pic 3 and Pic 4 with the Chorus plug-in. No more words needed...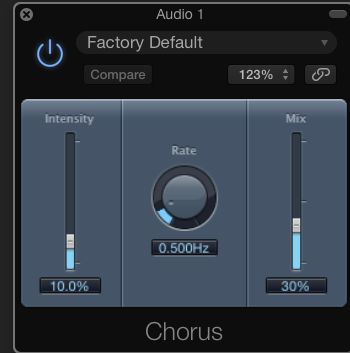 Pic 3—Chorus in Logic Pro 10.2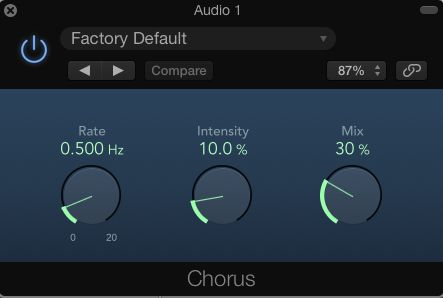 Pic 4—Chorus in Logic Pro 10.2.1
#3 - Go to position again remembers the last entered position
Thankfully the old behavior has been restored. This drove me nuts! For example, if I want to go to 4 3 1 1, I simply type 4, hit the spacebar, then 3, and hit the spacebar, etc., click OK and the Playhead moves to that position. Next time I open the Go To Position window it will remember the last position entered.
#4 - Apple loops can now be dragged into Alchemy and they will automatically conform to the current project tempo
Also, Alchemy now provides 11 spectral effects for sound processing in the frequency domain. This opens all sorts of creative possibilities.
#5 - New lane set in the Step Editor
The Step Editor now includes a Lane Set that automatically creates lanes to display all the content in a region, greatly enhancing its usability. See Pic 5.
#6 - Export and bounce track improvements
Export Track As Audio Files now works for multiple selected tracks with each exported as a separate audio file. In the past, you had to do either one or all. Bounce Tracks in Place also now works for multiple selected tracks. This makes stem creating much easier.
#7 - Hide all empty tracks key command
This new key command hides all tracks that do not contain either regions or automation. It is, however, unassigned by default so you will need to assign it to a key command.
#8 - Region transpose in the Piano Roll
Now when you transpose a region using the Region Inspector, you have the option to view the transposed notes in the Piano Roll. Simply check the relevant option via the Piano Roll's View menu, as shown in Pic 6.
#9 - Over 600 new Apple Loops in a variety of genres
Also, the Loop Browser now displays content that is available but not yet downloaded which you can download directly from the Loop Browser.
#10 - New metronome option to generate beat accents according to the beat grouping of the current time signature
My prayers have finally been answered ! Until now, if you were in 4/4 the metronome would beat four quarter notes, which is fine but in e.g. 12/8, it would beat 12 eight notes, which at a fast tempo is incredibly annoying. As a conductor, I would beat dotted quarter notes and most DAWs allowed that to be the case with their metronome, but Logic Pro never has.
In the metronome Project Settings, I check Group and uncheck Beat.
Double-click on the signature in either the Signature Global Track or in the Score Editor and enter the grouping, in this case 3 + 3 +3 +3, and voilà! 12/8 now beats dotted quarter notes while 4/4 beats quarter notes... See Pic 7.
#11 Bonus - Audio Unit 3 support
OK, I lied ☺ Here is another feature that will not bring you immediate benefit but may in the long term. Ever since Apple dropped VST support in Logic Pro and went with the AU plug-in format, many users have been frustrated by the 16 MIDI channel per instance limitation. AU 3 will eliminate that and Logic Pro is now ready for developers to take advantage of that by giving us AU 3 versions of their libraries engines.
There are lots more goodies in this update, so check it out!