The Maschine V2 update is packed with goodies. If you are new to the platform then well done, you've arrived at the right time!
Here's a list of some of the best features included in the new version. Of course this isn't everything you get but some of the tasty bits that caught my eye. Let us know in the comments if there is a new addition that you think should have made the list!
1 - The Mixer
One of the most highly anticipated additions to Maschine has been some form of mixer. Of course, we've always been able to change the levels of individual sounds and groups but the method for doing so has been a little, well, let's call it clumsy.
NI have now put a fully featured mixer in place and every Maschine user can now breathe easy. This doesn't just make things a bit better… simply put it transforms Maschine into a fully functional production tool.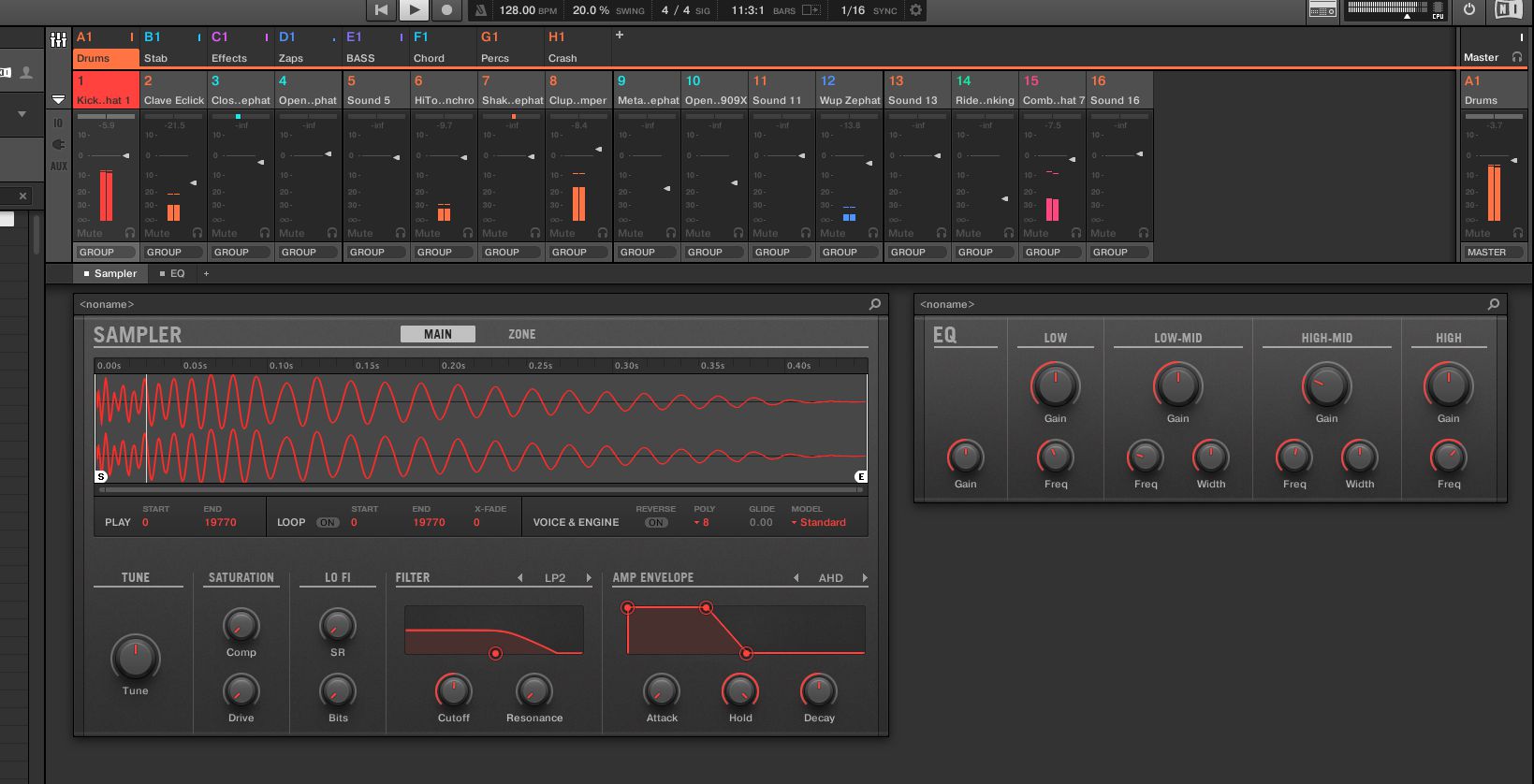 Maschine's mixer turns it into a full-blown production environment.
The new Mix View initially gives you access to the levels and pan settings for your active groups, but with a swift double-click you get an overview of every sound in a group. This effectively gives you a two-layer system and the ability to mix with a much finer level of control.

2 - Jumping the Cue!

If you are using Maschine in a live situation or as part of a DJ act then you're going to love the new Cue Buss feature. Essentially, the Cue Buss is a completely discrete output that you can use to monitor or audition just about anything in the system.
An immediate use for this is auditioning sounds. When you're in the browser, anything you click on should be auditioning through your pre-configured Cue Buss. This means you can play these back at a different level, unprocessed or even just through your headphones.

The Cue Buss can be activated from anywhere that you see the headphone icon.
This routing flexibility also goes for sounds in the mix. Click the little headphone icon anywhere and that group (or sound) should play through the Cue Buss. Although this is great for mixing or live performance, you could technically use it during recording and build a separate cue mix for say a singer. Very flexible feature!
3 - The Flexible Strip
The mixer actually features its own effects 'strip'. This looks a little like the plug-in strips you see in fully-blown DAWs. If you come from a Logic, Cubase, Pro Tools or Ableton background this will make immediate sense.
You can open plug-ins and effects here, bypass plug-ins and even change the order they are in. When you click on any of the effects in your strip they will appear with an expanded graphical interface.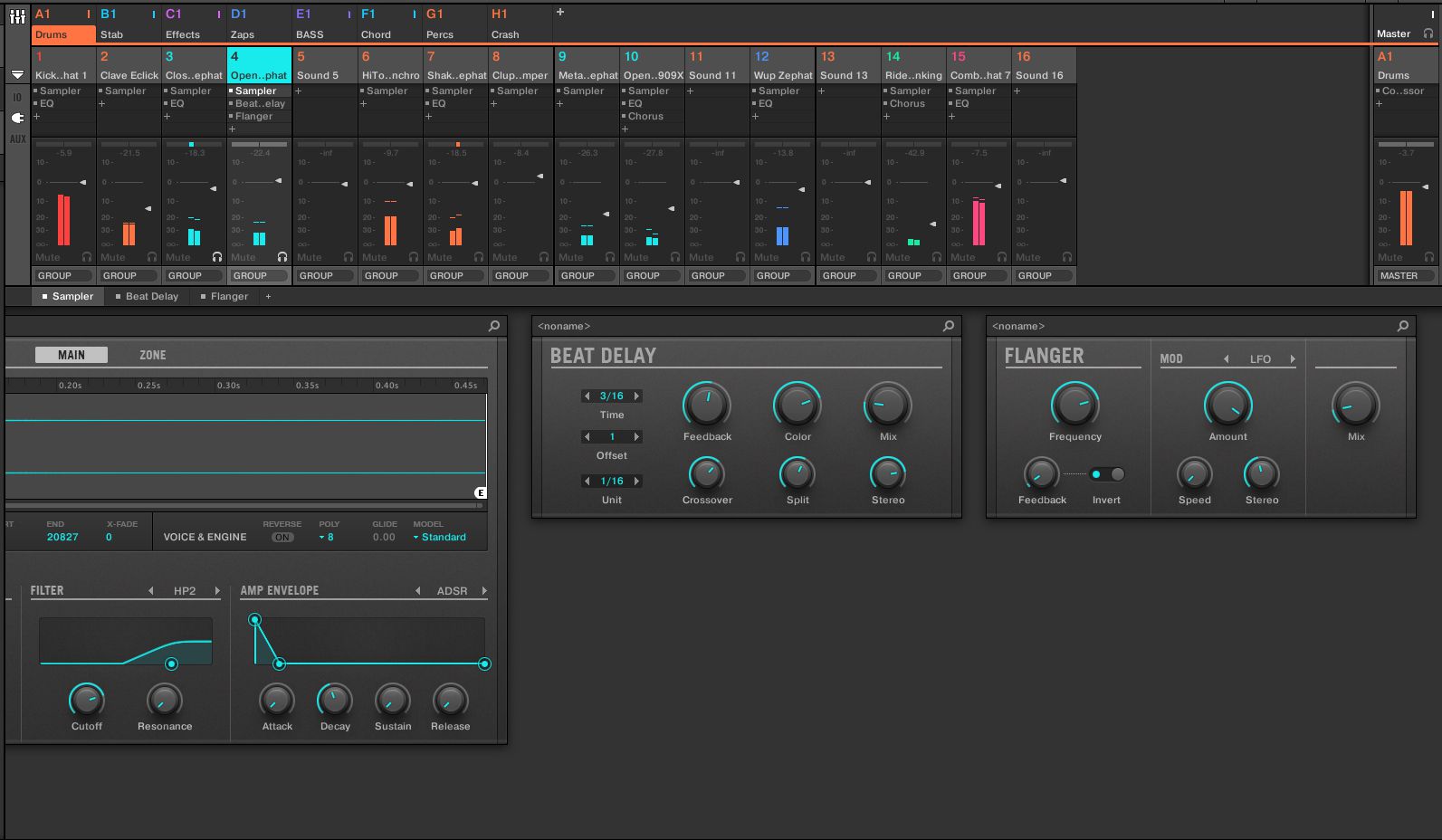 The effects strips finally gives us a way to quickly access and re-order effects.
So the new plug-in strip is extremely flexible, giving you not only a means to manage your effects chains and move plug-ins around your mix but you also get a way to view extended parameters and metering.
4 - Unlimited Groups and Effects
In older versions of Maschine, the amount of groups and effects that could be created was sadly limited. This meant that workarounds were required to create more complex projects and processing chains.
There is literally no limit to the amount of effects you can add.
I'm glad to report that all limits have now been lifted, and you can create groups and effects to your heart's content, or until your computer blows up, whichever comes first. This is not just a gimmick and should really give you one less thing to worry about when you are creating more demanding Maschine projects.
5 - New Audio Engine
Another improvement that should improve workflow is the brand new audio engine. Not only does this vastly improve multi-core support, it also seems to make everything a whole lot more fluid.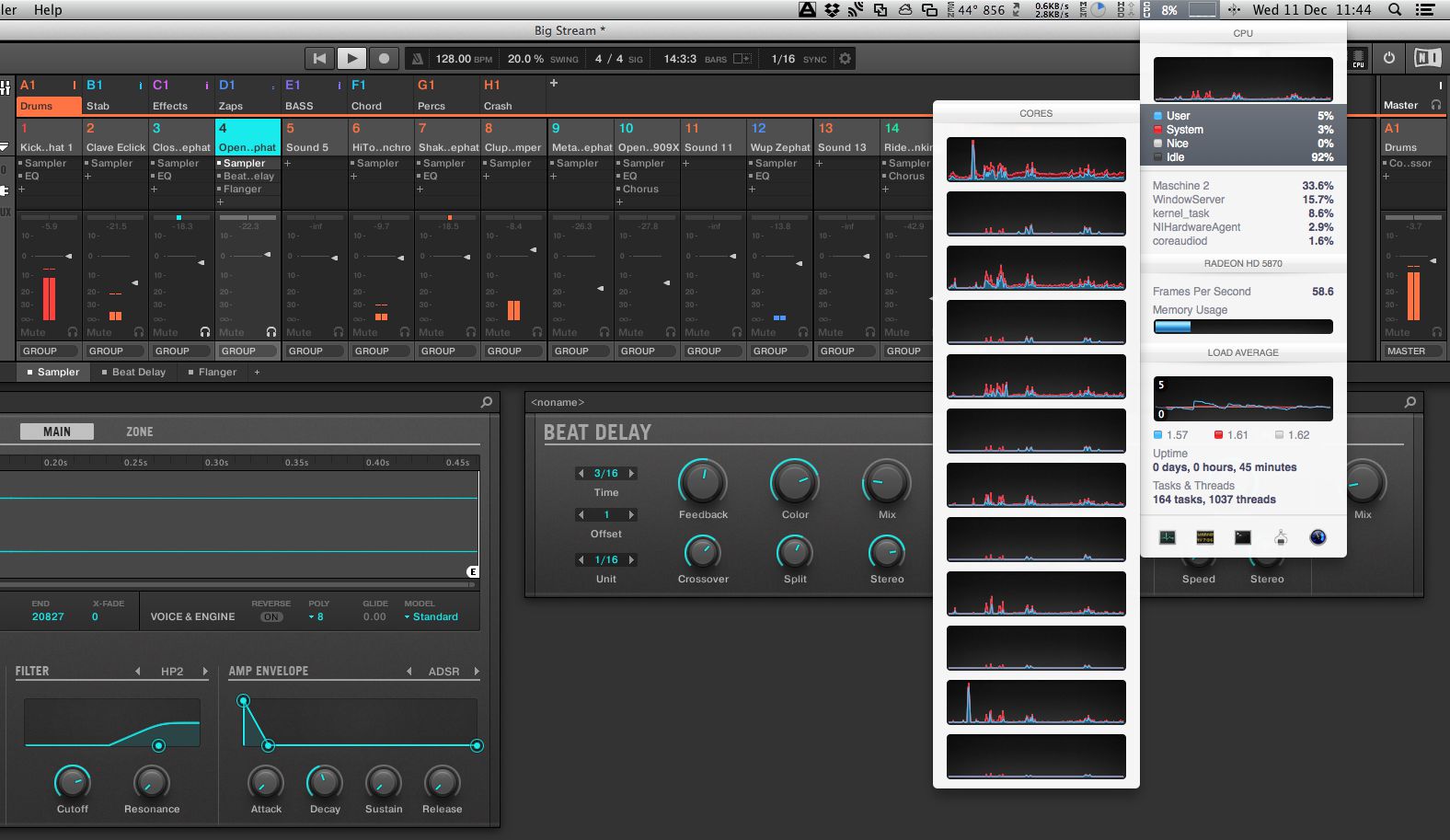 A complex project making great use of 12 cores of Xeon.
Although it's great that these 'under the hood' improvements have been put in place, it is worth mentioning that you'll only really reap the rewards when using Maschine in stand-alone mode. When using the plug-in, you are at the mercy of your DAW's multicore processing technique.

6 - The Drum Synths
Moving away from workflow for a second, I simply have to give the new Drum Synths a mention here. When it comes to the upgrade cost of V2, these are worth the entrance fee alone.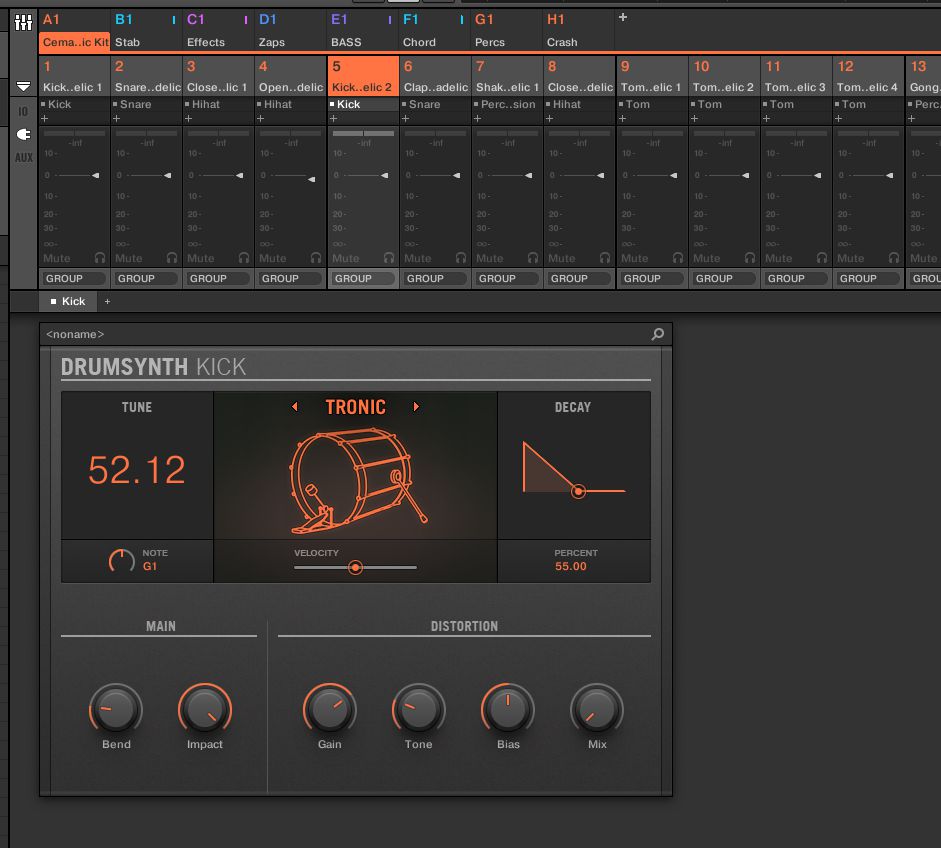 The drum synths are well worth checking out.
You get a number of different models here covering everything from kick drums to percussion. This isn't just electronic drum modelling though, you can also model acoustic drums from rock kits to orchestral percussion. This collection of new instruments will not only give you a whole new sonic palette, but it's set to give Maschine its own identity.
7 - Better Sampling
One thing I noticed while using Maschine V2 is how much better the sampling is now. OK so it's all pretty subtle but the whole process of recording and editing your samples is probably the most streamlined I've seen in software so far. Add the Maschine Studio to the mix and you have a killer combo.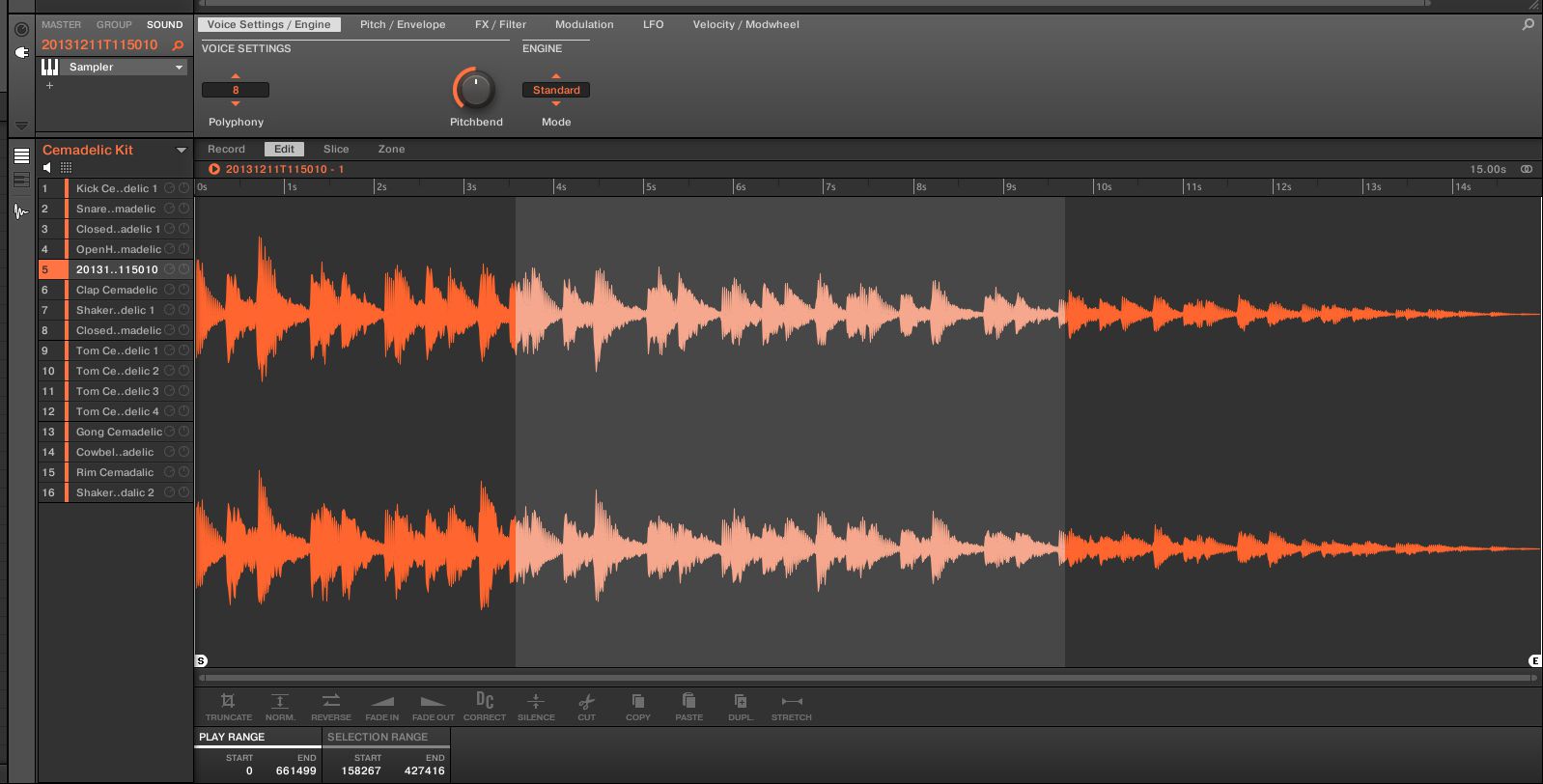 Sampling and editing audio is now a breeze.
One example of this streamlined sampling is the way Maschine is now able to instantly map sliced grooves across the pads of a group. Hit the apply button and everything is put into place instantly for your groove chopping pleasure. The speed at which the new system does this is really impressive.
8 - Macros everywhere!
Macro editors have always been a cool part of Maschine and NI instruments in general. They give us a super fast way of accessing key parameters and allow us to use Maschine's control knobs to do so.

There are now Macro controls everywhere!
Macros are now accessible and configurable for any level in Maschine, meaning that you can have Macros for instruments, groups and sounds. This is great for getting really fine control of individual sounds and effects processors or more general control for entire groups and kits.
9 - Pad View
The new pad view not only gives you a great overview of your pad set up in any group, it also gives you access to new features such as link and choke groups. These are ideal for creating realistic drum kits and can also be used creatively.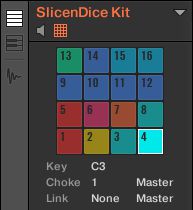 The new pad view allows you to quickly edit link and clutch groups.
10 - Midi Enhancements
There are a ton of new MIDI tweaks in V2 but the standout one has to be the ability to import MIDI files directly into groups. This might not sound like much but this basically means that any groove or part you've recorded in another app can now be drafted into your Maschine projects.