My 3-hour course on '˜Mastering EDM in Logic Pro X' has recently been released so I thought I would give you an insight into some of the third party plug-ins that I'll be using. There are obviously some products here that share the same category, but I've tried to give you all the essentials and a few you may not have thought about.
Most of these plug-ins may appear to be quite expensive (and yes there is a lot of UAD-based stuff in here) but you have to remember you get what you pay for and all of these put together would still cost a fraction of a single piece of dedicated mastering hardware. In reality, even high-end mastering software is excellent value.
1: FabFilter Pro-L Limiter
I've made no secret of the fact that I love FabFilter plug-ins. They are all priced so that most can afford them, they have extremely user-friendly interfaces and most importantly, they sound great. So great in fact that their Pro-L Limiter has swiftly become a firm favorite amongst in the box engineers and producers worldwide.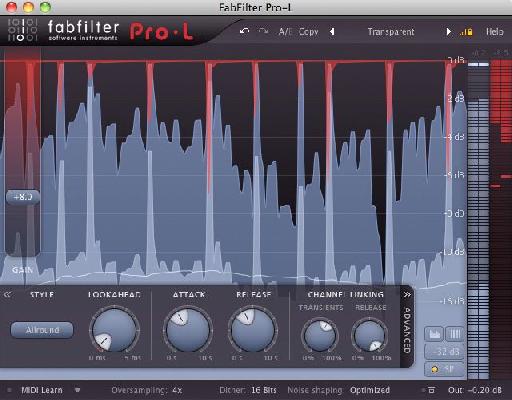 The Fabfilter Pro-L
The Pro-L is capable of applying both subtle transparent limiting and full-on maximiser effects. Whatever level of volume you like to induce, the Pro-L can handle it, and it does an excellent job of preserving dynamics at the same time. If you are looking for a do-it-all limiter that won't break the bank... this is it. End of story.
Find out more here.
'¨2: Sonnox Inflator
On the subject of dynamics processing, let's take a look at something slightly different. Sonnox (Sony/Oxford) are famous for creating awesome plug-ins that are more than capable of taking on mastering duties. Their limiter for example is widely accepted to be one of the best out there.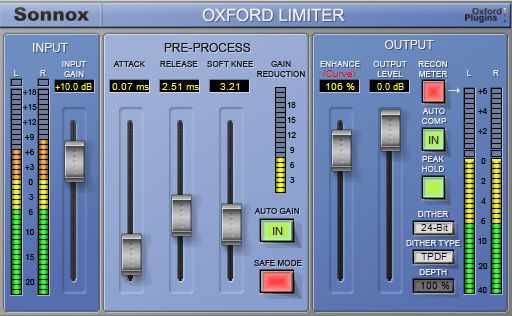 The Sonnox Limiter is an established mastering limiter.
If you are looking for another way to enhance, boost, pump and generally make your master bigger, then you should give the '˜Inflator' a whirl. It can generally add density and pressure to any program material without adversely effecting dynamic range too much.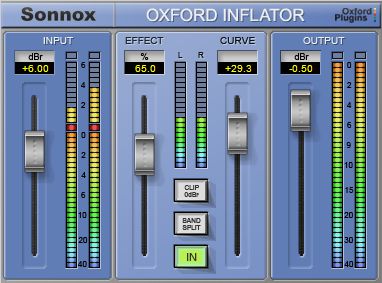 The Sonnox Inflator.
Find out more here.
3: The SSL Buss Compressor
The SSL Buss compressor is an absolute classic and almost a mainstay of the modern mastering chain. It's so good you can even find companies like Propellerhead and Native Instruments integrating it right into their products.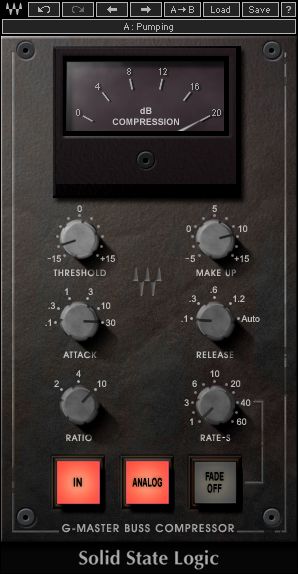 The Waves SSL G Buss Compressor.
I thought it might be a bit silly to specify one single version of this classic as so many companies now produce stunningly accurate models of it. If you're not sure where to start, take a look at the Waves, UAD and Native Instruments websites. You're sure to find one in your price range that will fit your system (in either native or DSP flavors).'¨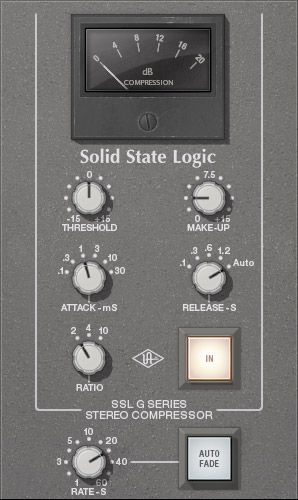 UAD's Version of the SSL Classic.
Find out more about Waves SSL G Buss Compressor here.
Find out more about UAD's SSL Classic here.
4: Sonnox Codec Toolbox
Having the right mastering software isn't just all about having the best compressors and limiters, you also have to make sure that you'll get the best sound possible when you convert to MP3 (and other compressed formats).
The Sonnox Codec Toolbox does exactly that. It consists of a stand-alone app and plug-in and allows you to listen, in real time, to the effects of the compression on your music. This is ideal to ensure that your delivery is great for every application.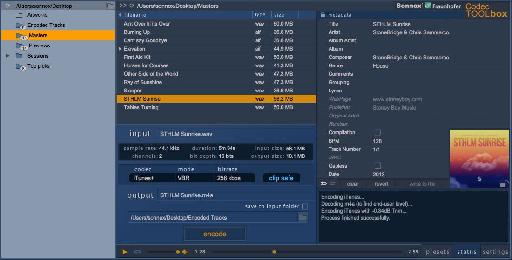 The Sonnox Codec Toolbox.
The Toolbox is amazingly cheap at £35 but is limited to 48 kHz. If you require higher resolutions then you'll have to fork out for the Pro Codec which is considerably more expensive.
Find out more here.
5: UAD Manley Massive Passive'¨
EQ is an essential part of any mastering chain, whether you are adding slight enhancement, or you need to fix problems and remove rogue frequencies. Picking the right plug-in for the job is critical.
In the hardware world, passive EQ is the way to go and therefore it makes sense to opt for a top-notch model of one of these high-end tools. One of the best out there is UAD's model of the stunning Manley Massive Passive.

UAD's awesome model of the Manley Massive Passive.
If you don't have a UAD system, then you might want to take a look at NI's website as they have produced a Manley clone with Softube. This version is also very accurate and comes in native flavors.'¨
Find out more here.
6: Brainworx bx_digital V2
Utilizing M/S tech in your mastering chain might not have been something you have considered before, but the ability to control the mono and stereo information in your mix independently can truly give you the edge you need.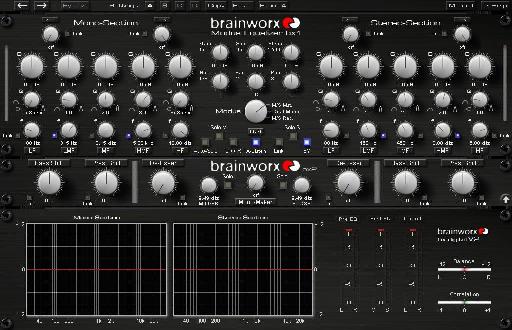 The feature rich bx_digital V2 from Brainworx.
Brainworx have long been masters in this field and produce some of the best M/S based software processors out there. Their flagship is the bx_digital V2. This monster EQ allows you to enhance both stereo and mono data with ease. If you haven't seen this in action, it's well worth checking out.
Find out more here.
7: A.O.M. Invisible Limiter w
As we've already discussed, brickwall limiting is key to getting your master to the right level and ensuring that you have no overs and ear bleeding perceived volume (only kidding). Some developers are more well known than others, but a new company making waves is Japanese A.O.M.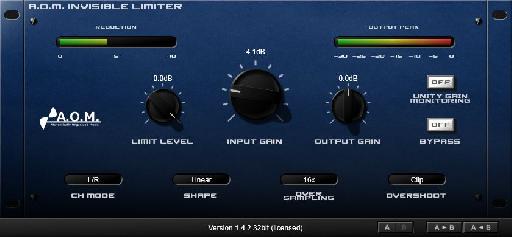 AOM's Invisible Limiter may be a newcomer but it sounds great!
A.O.M.'s new Invisible Limiter does exactly what it says on the tin and is able to produce loud upfront sounds with little overall effect to the feel of the original material. It's very simple to operate and comes in 64-bit for most DAWs.
Find out more here.
8: iZotope Ozone Advanced
'¨'¨If all of this seems a bit complex or if building an extensive plug-in library simply for mastering is just too much work, you might want to look at the one-stop mastering shop that is Ozone.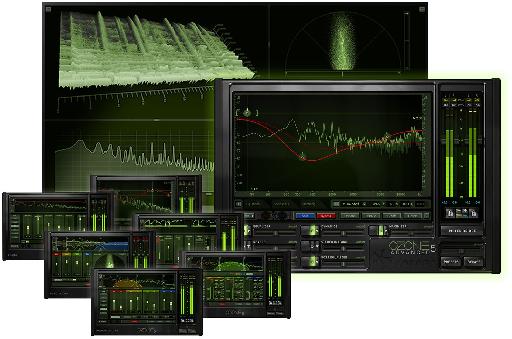 The all-in-one mastering suite that is Ozone.
Ozone covers everything, including EQ, saturation, stereo enhancement, compression, limiting, dithering and even reverb! If you opt for the advanced version, you even get iZotope's mastering grade metering suite called Insight.
Find out more here.
9: SPL Passeq
Another monster passive EQ model is SPL's Passeq. This is modeled on SPL's amazing (and expensive) hardware and produces a sublime tone. The perfect tool for sweetening up a mix that lacks a little sheen. This will be a huge jump from using your DAW's stock EQ on your master output!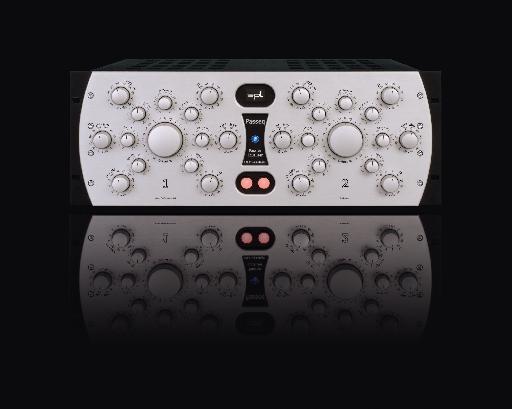 The perfectly modeled SPL Passeq will really add shine to your mixes.
Find out more here.
10: UAD Shadow Hills Mastering Compressor'¨
Compressors are one part of the mastering chain that impart character to your final master. Pick the right one and you can transform a good mix into a great production. The SSL is an obvious choice, but if you want to try something a little less traditional, you might want to check out UAD's model of the legendary Shadow Hills mastering compressor.
My current favorite mastering compressor.
This is actually two compressors in one and allows you to apply gain reduction from two different models at the same time. This is ideal for adding extra harmonics and taming problem transients at the same time. I love this one and if you are a UAD user, I strongly recommend you check it out.'¨
Find out more here.